In 1994 John and Ellen Benish acquired the property, restoring the winery and residence. Their first release was 135 cases of 1995 Sangiovese. Since then they have added other Italian varietals, including Pinot Grigio, Moscato di Canelli, Sagrantino, and Aglianico. We make two proprietary blends, Sorridente ("smiling"), and Phenomenon. Oh, and we produce two awesome Zinfandels.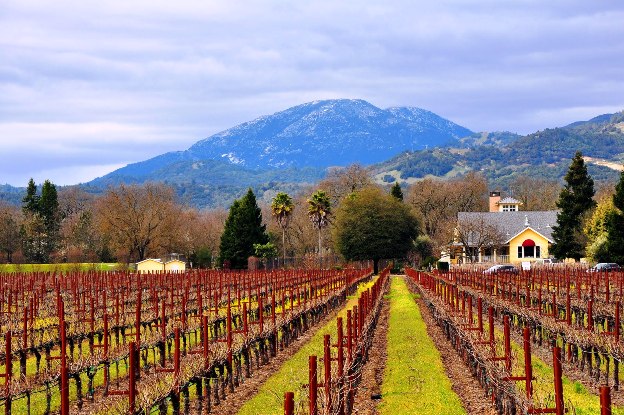 The property is steeped in local history. Originally a cattle ranch, the land was converted to a thoroughbred horse operation, complete with racetrack. Occasionally we discover horseshoes in the vineyards. The next owner planted most of the 42 acres to grapes and transformed the barn into a wine cellar, leaving old stall doors as a reminder of the past. Local Indian tribes used obsidian from a nearby formation for tools and arrowheads. Our "Black Glass" Zinfandel vineyard is aptly named, as fragments are still found between the rows of vines.
The Benish family chose the name Benessere to convey the unique qualities of the wholesome lifestyle found in their charming corner of the northern Napa Valley.
Their first release was 135 cases of 1995 Sangiovese. Situated between the western hills and the Napa River, on natural gravelly terraces, the property proved to be ideal not only for Sangiovese and Zinfandel, but also for Cabernet Sauvignon and Merlot, two varieties used in the great proprietary blends of central Italy.
They have expanded their selection of Italian varietals to include Pinot Grigio, Muscato di Canelli, Sagrantino and Aglianico. A small family owned winery set among estate vineyards and gardens on a quaint lane in the northern Napa Valley. Benessere's unique country setting will enhance your "well-being" as you taste our Italian and Napa Valley artisan wines.
Everyone who comes is treated as company and we hope you will feel this when you visit . Tastings are offered inside the tasting room in the charming, sunny-yellow farmhouse-winery or outdoors on a rose-bordered garden patio overlooking the vineyard.
Guests $15 per person, tasting of five wines. Tastings complimentary for Wine Club members and guests.
Complimentary (and complementary!) tasting of chocolates and charcuterie for Club members (with appointment). Tastings complimentary for Napa Neighbors (with local driver's license) plus one guest.
Tastings and Tours are by appointment.
Please call us to help us plan your visit to sip and chat about all of life's good things! 707-963-5853 ext. 105
The Benessere Tasting Room
is open to visitors:
7 Days per week 10 AM until 5 PM
Benessere Tasting Room
1010 Big Tree Road
St. Helena, CA 94574
Visit the website Benessere Vineyards

;