If you want the true British experience during your stay in London, then you're going to have to go for afternoon tea at some point. The good news is you are possibly likely to appreciate it such a lot that you'll end up going every day, which is great for your taste buds, but perhaps not so good for your wallet, but, in any case, it simply isn't cricket if you don't try it at least once.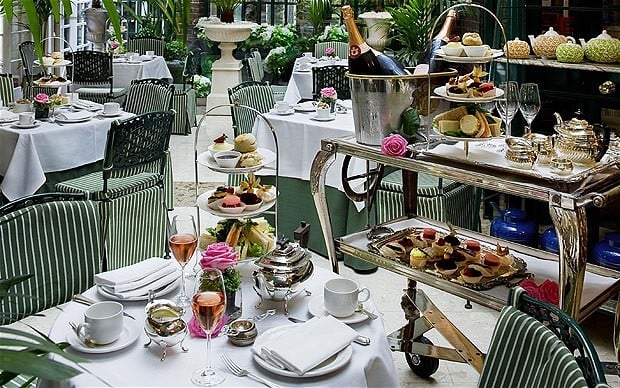 London is a diverse and sprawling city, which makes it hard to know just where to go for high tea or afternoon tea. However, some places are definitely better than others, so if you are determined to give yourself a nice treat in the afternoon, during your trip, you should head to one of the following for a guaranteed good time.
The current top spot on the list is occupied by the beautiful Langham Hotel, where diners come together in the splendid surroundings of the Palm Court to be waited on by extremely efficient and friendly staff. Reviews announce that the food is not only perfect but presented impeccably, with a wide and tempting selection of scones, cakes and sandwiches. I strongly advise that if you want to experience high tea at its finest in London, this is absolutely the place to choose.
The Brown's Hotel in Mayfair has also impressed many, and this hotel was winner of the Top London Afternoon Tea award in 2009. Famed as the setting from which Rudyard Kipling penned many of his best known works, the Brown's Hotel offers a impressive range of seventeen different teas, finger sandwiches, delicious pastries, scones, and cakes while a professional pianist provides the background music for a sophisticated and scrumptious afternoon tea.
Finally, one tea house that needs little introduction is, of course, The Ritz. For a memorable afternoon tea experience, visit this idyllic hotel where you'll enjoy afternoon tea in grandeur, with the option of a glass of champagne to truly mark the occasion.
There's no doubt that you'll be feeling very satisfied when you return to your hotel in London, and find the experience will be one that continues to be in your memory for a long time, and if you wake up feeling that you just might have to indulge in it again down the road, well, you'll only be reinforcing those delightful memories so you can keep them in mind for many more years to come, won't you?