Halong Bay, Vietnam – A New Natural Wonder Of The World
Halong Bay is located in Quáng Ninh province, Vietnam. The bay features thousands of limestone karsts and isles in various sizes and shapes. The bay has a 120 kilometre long coastline and is approximately 1,553 square kilometres in size with 1969 islets. Several of the islands are hollow, with enormous caves, other support floating villages of fishermen, who ply the shallow waters for 200 species of fish and 450 different kinds of mollusks. Another specific feature of Halong Bay is the abundance of lakes inside the limestone islands, for example, Dau Be island has six enclosed lakes. All these island lakes occupy drowned dolines within fengcong karst.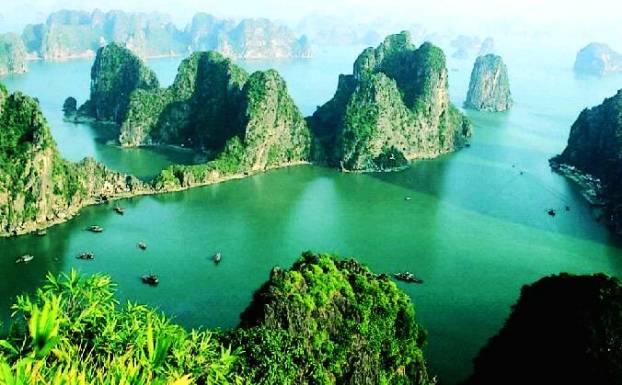 Halong bay is a world heritage site recognized by UNESCO in 1994 and 2000, according to it's remarkable limestone Karst and beautiful landscape. Halong bay is also a new Nature Wonder of the World. There are a about 2000 limestone formation with approximate 1.500 square km of water. With this huge water surface, it take us almost 1 week to visit the whole bay. There are many ways to visit the bay, such as day cruise and overnight cruise. For Day Cruise: you can book a 4 hours , 6 hours or 8 hours private boat. with this kind of tour you can visit many beautiful spots.
For Overnight Cruise: You can join a sharing boat or hire your own boat. They will take you to the place that day cruise can not go to. Also with many activities : Fishing, Squid Fishing, Swimming, Kayaking, Caving, BBQ on beach, Dinner in cave.
Fishing is one of the good thing to do. Amazing experiences you can get with the fisherman. they will take to fishing with their fishing boat, using their net and tool to catch Halong bay fish and squid. Each fishing boat only can carry only 5 people, so if you have big group you should ask or hire more boats.
Categories: Abacos, Asia, Halong Bay, Vietnam
Tags: Asia, Floating Village, Halong Bay, Karst, UNESCO, Vietnam, World Heritage Site