Gasparilla Island Florida
Gasparilla Island is a barrier island located in southwest Florida between Fort Myers and Sarasota. The largest town on the island is Boca Grande and the island is also the site of the Gasparilla Island State Park. It is one of several barrier islands extending along the Florida Gulf Coast and it is separated from the mainland by Charlotte Harbor and the Pine Island Sound. Gasparilla Island is considered one of the most beautiful Barrier Islands on the Gulf Coast.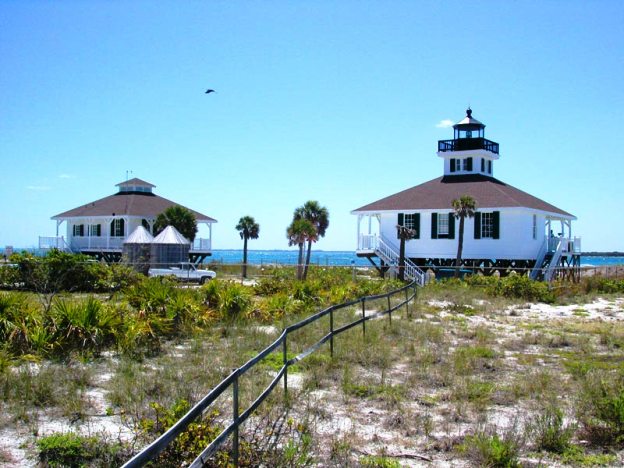 According to folklore, Gasparilla Island got its name from Jose Gaspar, a famous local pirate who had his base on the island and is said to have hid his immense treasure there. Gasparilla became an important stop for phosphate shipping until the dredging of the Port of Tampa and a major vacation destination for the wealthy from Tampa and Fort Myers. Shipping dramatically declined after the turn of the 20th century, but tourism remains very important to the island's local economy.
Access to Gasparilla Island is via the Boca Grande Causeway at CR775 and Placida. Condominiums and modern homes sprawl along the island, although the town of Boca Grande looks much as it did for a century or more. Although quiet and peaceful most of the year, the island's relaxed atmosphere is disrupted in Spring when fishermen descend with a vengeance on the island that is considered one of the best tarpon fishing spots in the world. A world class tournament celebrates the annual tarpon run each July. On Gasparilla Island, gorgeous white sand beaches leads to the turquoise waters of the Gulf, where swimming, shelling, fishing, sailing, surfing and scuba diving are just some of the activities available.
One of the island's most interesting features is the still-working US Coast Guard wooden lighthouse, built in 1890. It is located on the southern end of the island in the Gasparilla Island Lighthouse and State Recreation Area, and is open to the public daily from November to April, and Monday through Friday from May to October. This area has a very scenic view of Boca Grande Pass, a swift waterway that is the entrance to Charlotte Harbor. Two picnic areas in the park offer pavilions and scenic views of the water.
Categories: Abacos, Florida, Gaspirilla Island, USA
Tags: Beach Vacation, Family vacations, Florida, Gasparilla Island