For bicycle tours Ireland is perhaps a perfect destination, since it's got something for everyone – from sedate family cycling to serious mountain cycling and even its fair share of off-road routes.
As with any vacation, though, you'll get the most out of your bicycle tour of Ireland if you come prepared.
I've been living here for over three years now and this is where I discovered my real passion for cycling. We live in County Cork, the least populated county, (that's where we begin our Summer tours before heading North into Kerry and the splendor of Macgillycuddy's Reeks). The hills, narrow lanes and truly breathtaking scenery make it ideal for the serious cyclist who wants the challenge of the climbs without having to go off-road.
Here are a few simple tips to make your time here as pleasurable as possible.
1. Prepare for the weather! There's a reason Ireland is called the Emerald Isle… and there's a reason it's so green! In short, we don't lack for rain. And it can start pouring down from a hitherto gorgeous blue sky within minutes. So you'll need wet-weather gear, for sure. Also, the wind, especially on the South and West coasts. Fortunately it doesn't often get too cold, even in the winter, so a simple fleece under your waterproof shell should be sufficient.
2. Prepare for the roads. Wearing a cycling helmet just makes good sense at any time, but for bicycle tours Ireland offers its own unique dangers. The roads are none too good, especially in Cork and Kerry. The smaller lanes, of which there are millions, offer some awesome views and fantastic cycling conditions, but taking a spill is probably more likely than the places you're used to.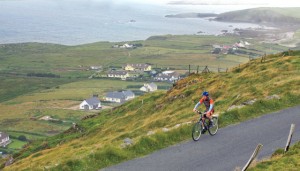 3. Ireland is fairly expensive, although you'll be pleased to discover the price differential in eating in and eating out is smaller than you'd expect. And there's no doubt, the quality of the food here is fantastic (and the welcome always friendly).
4. Bring a GPS or maps (or buy them here – just make sure you have them). Ireland is a country about 2/3 the size of England but with a population of around 4 million – and a good quarter of those around Dublin and in the other major cities. The South West is particularly sparsely populated and the road signs less than diligently maintained.
5. Carrying on from the point above… the "major" towns and villages you see on the maps are usually in reality much smaller than you'd ever imagine, often just a few houses and, of course, the obligatory and ubiquitous pub. Small stores abound but often you can have tens of miles to travel to the nearest decent supermarket. So… carry a toolkit and puncture repair kit at the very least. A spare cable or two and a mobile phone would be good to have, too.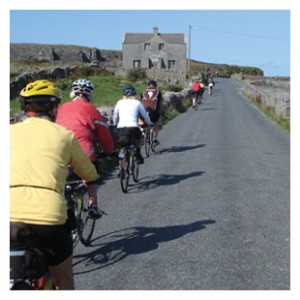 6. Have insurance. Unlike the UK health-care is private over here. And it's not cheap.
7. Relax! The commonly held stereotype of the friendly Irishman (and woman) is 100% correct. They are in my experience, unvaryingly polite and helpful, especially once you're out of the big cities.
No doubt about it – for bicycle tours Ireland is the closest thing to heaven on Earth – so long as you come prepared!
For more information visit http://www.etraveltrips.com