More than 1,000 lakes—ranging from 10 to 10,000 acres each—are scattered throughout the piney woods along the Minnesota/Ontario border. On the Minnesota side lie one million protected acres of land known as the Boundary Waters Canoe Area Wilderness, the largest U.S. wilderness preserve east of the Rockies. Ontario's Quetico Provincial Park encompasses another contiguous 1.2 million acres.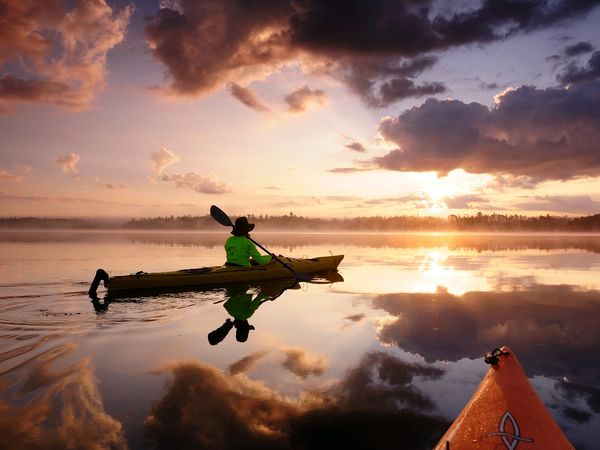 It's an almost incomprehensibly vast lake country wilderness, with more than 1,200 miles of mapped canoe routes and not a single road. Free of cars, largely free of motorboats—even mostly free of planes in the airspace above—the BWCAW is truly a place that feels untouched by time.
For canoers, the Boundary Waters are an irresistible draw. You can paddle and portage (carry the canoe overland to the next lake) for days, weeks, even months, camping on the shores of a different lake every night, pulling fresh walleye or northern pike from its crystal clear waters for dinner. (The region's embarrassment of fish also includes smallmouth bass and lake trout.) The labyrinth of waterways was long used by the Ojibwa, then later by the French, Dutch and British fur traders of the 17th century.
Paddlers and anglers make the Boundary Waters the most heavily used wilderness area in the nation. Nevertheless, a strict permit system and the vastness of the area quickly disperses the humanity that sometimes bottlenecks at the designated entry points; once you dissolve into the wilderness, you'll more likely be among moose, loons—and the occasional wolf—than humans.
The wilds of northern Minnesota are the only place in the contiguous U.S. where the eastern timber wolf was not exterminated in the 1930s; today, more than 2,000 wolves still roam the woods here. Learn more at the International Wolf Center in Ely (pronounced EE-lee), filled with exhibits about wolf behaviour and a variety of naturalist-run programmes. Its highlight is the 'ambassador pack' of four wolves (all born in captivity) that live in a 1.25-acre enclosure next to the centre and can often be seen from large viewing windows.
Ely (population 4,000) is home base for companies ready to provide anything from basic gear rental to fully equipped week-long canoeing excursions into the backcountry. Come winter, Ely becomes dogsledding central. At Wintergreen Lodge, renowned polar explorer Paul Schurke offers lodge-to-lodge or camping dogsled trips across frozen Boundary Waters lakes and woods.
After several nights in the backcountry, treat yourself to a stay at the Burntside Lodge. Handsome log cabins, solidly built by expert local craftsmen, nestle in the woods at this early 20th-century lakefront resort. The Burntside is especially sought out for its excellent kitchen and wine list, an unexpected delight in this remote outpost.