Cabo San Lucas is famous for it's clubs, bars and all night party atmosphere. Whether you're a spring break partier or a more laid back, margarita-in-hand type, you can find the right bar to belly up to for a relaxing afternoon cocktail or a packed floor to dance the night away on. From live rock bands, smoky jazz, upbeat Latin music or mariachi, Cabo San Lucas nightlife is hard to beat.
We've put together a Cabo Club and Bar guide to make finding the latest information on where to go to let loose and have a wild time or pull up a chair, sip a cocktail and watch the world go by.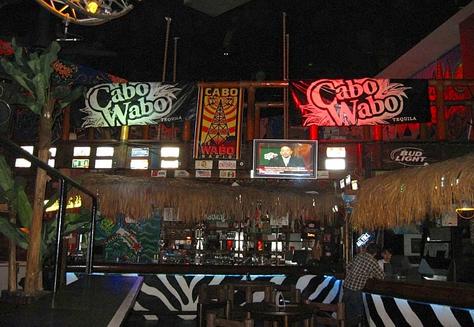 CABO WABO CANTINA
Owned by rocker Sammy Hagar, the Cabo Wabo Cantina is a nightclub and restaurant that caters to all tastes. The club is hands-down one of the best places to see live music in Cabo, with different bands every week including performances by Sammy himself on his birthday! Suggested time to arrive for nightly shows is 9 pm. The club really kicks in around 10. Located in downtown Cabo San Lucas on Calle Guerrero between Madero and Lazaro.
THE GIGGLING MARLIN
The oldest bar/club in Cabo San Lucas still has the atmosphere and the following to make it a favorite. World famous for their "hangings", a few shots and a few beers may find you hanging upside down like a landed marlin and the picture is definitely worth a thousand words! Days are a bit slow, but come nighttime, this place is packed! Their motto: "If our Food, Drinks or Service aren't up to your standards, please lower your standards." Find them on Marina Blvd. in the heart of Downtown Cabo San Lucas.
EL SQUID ROE
An Icon in Cabo San Lucas this club is three stories high and full of energy. El Squid Roe has remained one of the most popular dance clubs in Cabo San Lucas. Waiters equipped with spray tanks of tequila make their way through the crowd while table-dancing customers seem under the spell of the loud dance beat.
Bleacher seating lines the dance floor while the voyeur types hang over the railings on the upper floors to get a good look at the action on the dance floor. Located on Lazaro Cardenas at Marina Blvd. across from the Plaza Bonita Mall in Cabo San Lucas. Minors are allowed until 10:30 pm when they are asked to leave and the real party gets started.
NIKKI BEACH AND THE PASSION CLUB
Paradise at Baja's southernmost tip, Nikki Beach Cabo San Lucas is set on the shores of Medano Beach at the popular Me Cabo Hotel. As the sun sets, resident DJs work the crowd into a party frenzy with heavy hitting beats of dance and house. For late night fiestas, move the party to Passion Lounge & Nightclub where revelers can retreat to the VIP room where premium spirits await.
HARD ROCK CAFE
Take a collection of rock n' roll memorabilia, add good food and a plethora of cocktails, mix in a good-time rock n' roll atmosphere and live bands and you have the makings of another excellent night on the town in Cabo San Lucas. Their "Save the Planet" motto is known from continent to continent, as is their philosophy, "Love all— Serve All." Plaza Bonita Mall, Local 28-C.
NOWHERE BAR
Their motto is "Because Nowhere is exactly where you want to be" and it fits. A longtime favorite of locals and tourists alike, they're 2 for 1 drinks make it easy to pull up a stool but hard to leave. A terrific waterfront location that's tucked in amongst a row of restaurants, the Nowhere Bar really starts to happen after 10PM. Every Tuesday is ladies night with free drinks for the girls from 8 to 10PM with the party going on until 3 in the morning. Plaza Bonita, Blvd. Marina # 17.