Clubs & Bars In Cabo San Lucas, Los Cabos Mexico
Cabo San Lucas is famous for it's clubs, bars and all night party atmosphere. Whether you're a spring break partier or a more laid back, margarita-in-hand type, you can find the right bar to belly up to for a relaxing afternoon cocktail or a packed floor to dance the night away on. From live rock bands, smoky jazz, upbeat Latin music or mariachi, Cabo San Lucas nightlife is hard to beat.
We've put together a Cabo Club and Bar guide to make finding the latest information on where to go to let loose and have a wild time or pull up a chair, sip a cocktail and watch the world go by.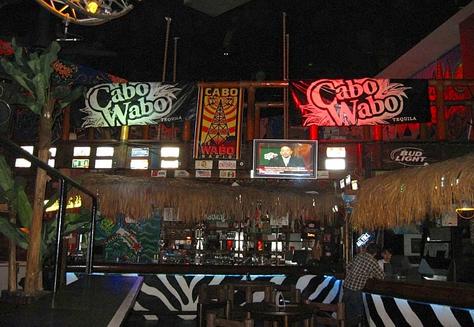 CABO WABO CANTINA
Owned by rocker Sammy Hagar, the Cabo Wabo Cantina is a nightclub and restaurant that caters to all tastes. The club is hands-down one of the best places to see live music in Cabo, with different bands every week including performances by Sammy himself on his birthday! Suggested time to arrive for nightly shows is 9 pm. The club really kicks in around 10. Located in downtown Cabo San Lucas on Calle Guerrero between Madero and Lazaro.
THE GIGGLING MARLIN
The oldest bar/club in Cabo San Lucas still has the atmosphere and the following to make it a favorite. World famous for their "hangings", a few shots and a few beers may find you hanging upside down like a landed marlin and the picture is definitely worth a thousand words! Days are a bit slow, but come nighttime, this place is packed! Their motto: "If our Food, Drinks or Service aren't up to your standards, please lower your standards." Find them on Marina Blvd. in the heart of Downtown Cabo San Lucas.
Categories: Abacos, Los Cabos, Mexico
Tags: Bars, night life, Nightclubs