If your idea of the perfect vacation is white sand beaches, tropical rainforest, and an island hospitality that can't be beat, Fiji beautiful landscapes fit the bill perfectly.
This beautiful island country was long known as the insiders' honeymoon and holiday destination. It quickly became world renowned when the movie, The Blue Lagoon, was released in 1980. People simply couldn't believe that sand could be that white and oceans that blue; and they slowly made Fiji one of the top honeymoon destinations in the world. Three decades later, it continues to be as beautiful and seemingly untouched as it was before Hollywood revealed its perfection to the world.
There are a few things that you simply must do when on your romantic honeymoon in Fiji. Here is our list of the top three things that you can't miss while in paradise.
White and Blue White sand and the unbelievably blue sea seem to be everywhere you turn in Fiji. Lucky for you, every beach you stumble upon will probably seem more secluded, spectacular, and breathtaking than the last.
Grab a towel and some cold drinks and spend the day with your loved one on the beach with your toes in the warm sand and the sound of gentle waves coming to shore as your only background music.
Sightseeing Fiji is full of places that can't be found anywhere else on earth. From the Garden of the Sleeping Giant – at the foot of the Sabeto Mountains, to the Naihehe Sacred Caves – created by Fiji's pagan tribes as a sacred homage to their gods, to a hike through one of Fiji's incredible natural rain forests. Don't miss your opportunity to experience what makes Fiji so special.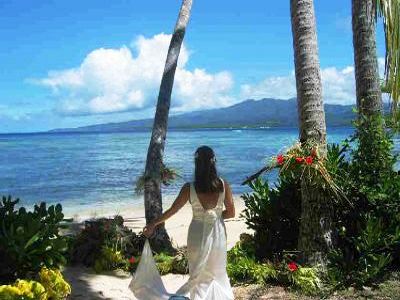 Fijian Culture Don't miss your chance to spend some time with the island locals while you are on your Fiji honeymoon. Whether it's wandering through one of the local markets or taking in a meke where you will experience traditional Fijian dancing.
Fiji is one of the most romantic places in the South Pacific and is full of some of the most luxurious resorts in the world. Ask your hotel's concierge for some more suggestions on can't miss attractions and activities here in the islands. Look into diving in the warm reef waters, horseback riding along on the shore, or relaxing on an Oceanside hammock in the warm Pacific sun. We can't wait to see you here!