Dallas and Fort Worth Museums
There was already much to love about the Dallas Arts District before 2003, but with the opening of the Nasher Sculpture Center that year, Dallas began to boast of having the nation's largest urban arts district.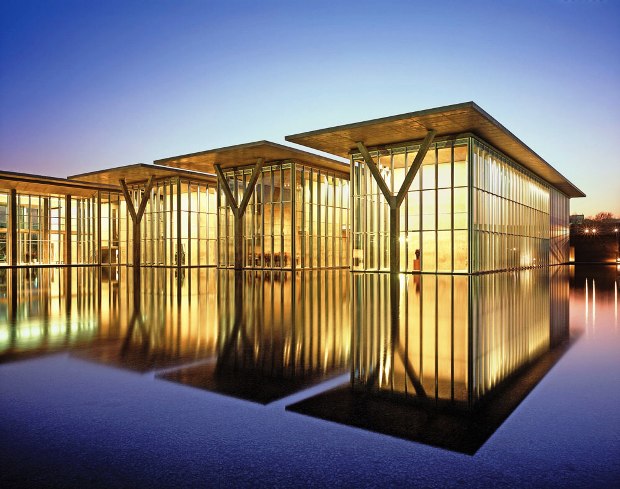 Devoted to the study, preservation and exhibition of modern sculpture, the Nasher is a 55,000-square-foot oasis of both art and nature, located right in downtown Dallas. Within the starkly modern building designed by Renzo Piano resides the stunning collection, amassed over more than four decades, by Dallas philanthropist and developer Raymond Nasher and his late wife, Patsy—more than 300 pieces, including works by Rodin, Picasso, Miró, Matisse, Serra, Calder and Degas.
Next door stands the Edward Larabee Barnes-designed Dallas Museum of Art, a treasure trove of American masterpieces from the likes of Wyeth and O'Keeffe; more contemporary works by Warhol, Pollock and Rothko; European art from Renoir, van Gogh, Cézanne and Monet; and magnificent works from Africa, Asia and the Pacific. A block away, the Crow Collection of Asian Art represents an exemplary assemblage of scrolls, paintings, metal and stone works, plus large architectural items like a sandstone facade from an 18th-century home in India.
Thanks to the generosity of Fort Worth's cattle barons, oil magnates and cotton kings, this easy-going town is the proud home not only to a huge cowboy quarter but also of one of the nation's largest cultural quarters. Scarcely a five-minute drive west from downtown, the Cultural District claims five world-renowned Western, classic and modern-art museums, not to mention the Will Rogers Memorial Complex and its world-class equestrian centre.
One of the most talked-about museums in recent years is the Modern Art Museum of Fort Worth, the second-largest behind New York's MoMA in terms of total gallery exhibit space. Designed by Japan's Tadao Ando, and opened in 2002, this contemporary masterpiece in stone, glass and steel includes works by Pablo Picasso, Mark Rothko, Robert Rauschenberg, Andy Warhol, Roy Lichtenstein and Robert Motherwell.
Categories: Abacos, Dallas, Fort Worth, Texas, USA
Tags: Dallas, Dallas Arts District, Fort Worth Texas, Kimbell Art Museum, Modern Art Museum of Fort Worth, Museums, Nasher Sculpture Center, National Cowgirl Museum and Hall of Fame, Raymond Nasher, Texas