Andaz Wall Street from Hyatt. Like every Andaz hotel, Andaz Wall Street provides a kaleidoscope of local culture that offers you a Lower Manhattan hotel stay unlike any other. Every detail and every moment, from our cutting-edge guestrooms to our authentic farm-to-table cuisine, are designed to give you a genuine and intimate New York experience. From the moment you arrive with our refined and relaxed check-in process, everything is unexpected but completely intuitive.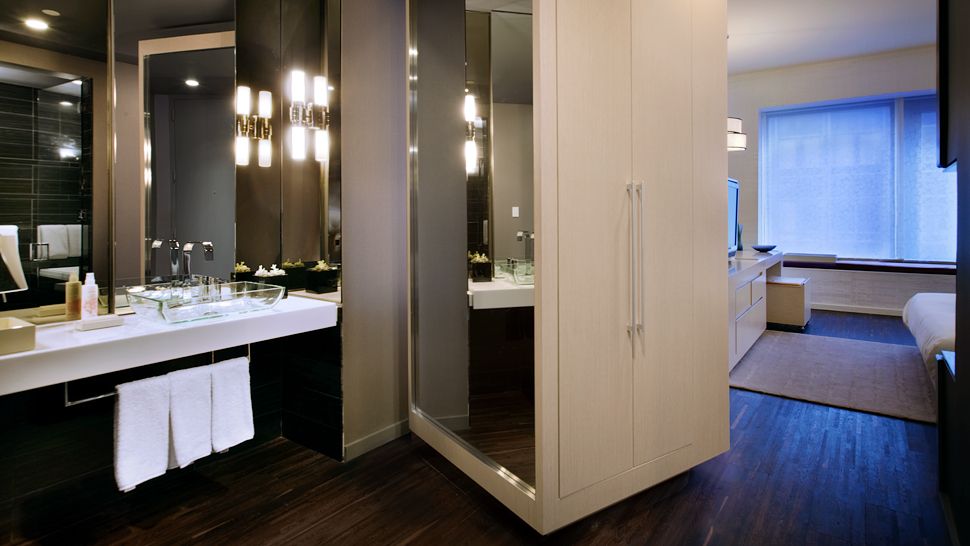 The stunning guestrooms at this exclusive Downtown New York City hotel offer room to breathe with high ceilings and 345+ spacious square feet of residential-style space. Andaz guestrooms, lounges and studios feature clean lines, ample light and innovative design in natural materials.
Veined stone, end-grain bamboo and cerused oak finish elegant rooms decorated with local artwork and offering unique features like bay window seats for reading and relaxation as well as rotating wardrobe valets with full-length mirrors to give you extra space. Personalized amenities like our Sleep Menu and mini-bar with complimentary non-alcoholic beverages and snacks exemplify the hospitality that makes a stay at Andaz unique.

Contemporary decor such as textured walls, oak floors, bleached wood accents and transition-themed artwork paint an undeniable glimpse at Manhattan luxury while the 11-foot ceilings and 7-foot windows set an inspiring scene. Peek down below to the streets of the Financial District, where social and dynamic experiences are steps out our front door.
Take advantage of free wireless Internet and complimentary mini bar with snacks and beverages. Enjoy modern conveniences such as LCD TVs, Geneva sound systems, walk-in showers and bath products from Beekman 1802 that make your NYC experience feel more like home.
Dining Inspired by the Hudson Valley, infused with local flare.
Fitted with open-floor kitchens and sourced with local ingredients, our neighborhood-centric restaurants serve delicious cuisine and zesty cocktails. Hudson Valley-inspired Wall & Water offers creative, farm-to-table foods, including roasted young chicken and W&W Wagyu burger, at communal-style or private tables. If you're feeling inspired, take a seat at the chef's table, where our head chef will prepare innovative culinary creations of the day.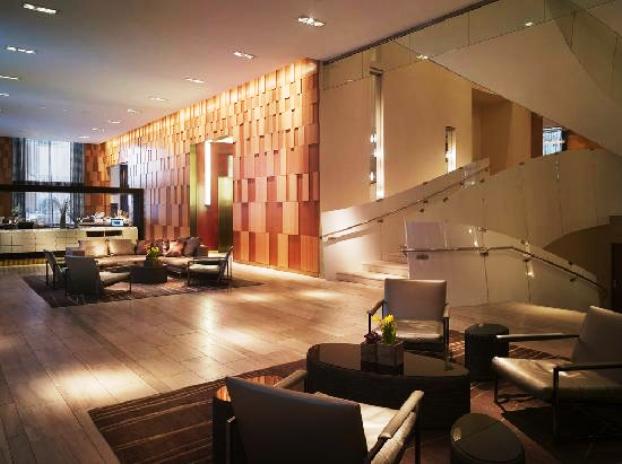 Local dining, art, nightlife, and that famous New York style—Andaz Wall Street is a kaleidoscope of New York's spirit. Come witness the rebirth of Lower Manhattan in delightfully simple and completely unexpected way.
A fitness center is available for the health conscious, and includes a spa. The hotel also provides a communal social space to mix and mingle with other visitors.
Location
Hotel offers convenient access to the Brooklyn Bridge, as well as the Statue of Liberty and Ellis Island Ferry. It is located just under six kilometres from New York's Grand Central Station.
South Street Seaport (0.2 mi/0.4 km)
Theatre District (4.6 mi /7.4 km)
Century 21 Department Store (0.4 mi/0.7 km)
Battery Park (0.5 mi/0.8 km)
Ground Zero Museum (3.4 mi/5.5 km)
Empire State Building (3.9 mi /6.3 km)
ANDAZ WALL STREET
75 Wall Street
New York, New York, USA, 10005
Tel: +1 212 590 1234
Fax: +1 212 590 1238
http://www.newyork.wallstreet.andaz.hyatt.com/en/hotel/home.html