The Hotel Hacienda Na Xamena Ibiza Spain is the first of the five-stars to pop up on the island, this luxury hotel oozes luxury and old school glamour thanks to exotic furnishings, eclectic art and decadent decor sourced from all over the world. If it's bohemian escapism you want, this is the ticket – not surprisingly, it's a popular celebs' choice when it comes to hiding from prying eyes. But you just can't beat its location, perched on the edge of a cliff with the most breathtaking views in Ibiza – well worth the five-star price tag.
Hacienda Na Xamena has a total of 65 rooms and Suites, each equipped with a Jacuzzi and unforgettable Mediterranean views (Jacuzzi not available in single rooms). The hotel has been designed to be at one with nature with streams and waterfalls, patios, porticos, galleries, plant life and traditional whitewashed architecture combining ethnically influenced Arabic decoration.
Breathtaking natural views from every room: the emerald green sea flecked by the white of breaking waves, wild cliff faces, the immersion in natural beauty and unforgettable sunsets. Hotel Hacienda offers all this beauty in a unique and magical setting, only 20 minutes away from the energetic life of Ibiza.
Facilties include the restaurant, two spas "La Posidonia" for beauty and wellness and "Las Cascadas Suspendidas" an open-air water circuit for wellness and fun. Also available are open air cooking classes, tennis located within the hotel grounds. The hotel is located on a 7 acre  coastal plot, 600 feet above sea level on a 1 mile stretch of coast amid a Mediterranean pine wood.
The area, in the North East of the island of Ibiza, is one of the last unspoiled ecological environments on the European map, and is at the heart of a nature reserve home to some exceptional flora and fauna. A 5 minute drive to San Miguel village and 10 minutes to Santa Gertrudis.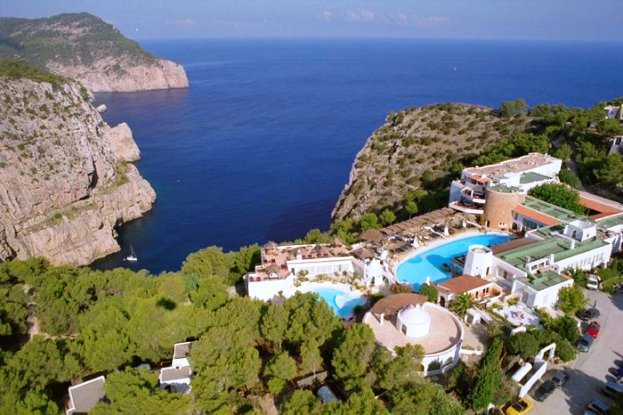 Facilties include 2 Spas, Restaurant, Bar, 24hr reception; Luggage porter; Free parking; Onsite (or reserved) car rental; Bureau de change; Chauffeur driven car hire (on site or reserved); Wi-Fi Internet connection in the rooms; Room service from 08:00 until 01:00. Room facilities include; Sea views; Jacuzzi; Mini bar; Telephone; Satellite; Television; Wi-Fi Internet access (optional); Safe; Vanity mirror in the bathroom; Hairdryer.
Dogs welcome: Small (up to 4kg) and well-behaved pets are welcome in rooms but not in the public areas such as the pools, restaurants.
Eating and drinking: The hotel has four restaurants in total. The open-air Eden, and indoor Cascadas restaurants offer formal midday and evening meals, while the El Chill Out lounge is the ideal place to sit and enjoy daytime sangrias and tapas. Finally, the Sueño de Estrellas restaurant serves Asian-style cuisine in a romantic setting. The poolside bar, Juzz, offers a great selection of healthy fruit cocktails.
Near to? San Miguel is the nearest village but has very little to offer. Take a taxi ride to Bambuddha Grove for a great night out or borrow a hotel bike for a nice (but hilly) ride to the beach.
Getting there: Hotel Hacienda Na Xamena is a 45-minute taxi ride from/to the airport. The hotel can arrange a pick-up for you. Alternatively, you can catch the number 10 bus into the old town from the airport; from there you can catch a bus to San Miguel, then a taxi to the hotel
Address: 
Urbanización Na Xamena, s/n, 07815 San Miguel, Ibiza,
Islas Baleares
, Spain Phone:+34 971 33 45 00
Hotel class: 5 stars