Florida's Emerald Coast is full of great family attractions you can enjoy during your stay in Destin Florida. In fact, there's so much to do the only problem you'll have is which one to do first. Get out your itinerary and put these five top family attractions on your must-see list.
1. Big Kahuna's Water and Adventure Park – Kids, water and adventure – what a winning combination. Wherever there are water activities, you can be sure the kids will have a grand time. Big Kahuna's doesn't disappoint. In addition to more than 40 water attractions, this oversized water park has three high-thrill rides, two go-fast and delirious go-kart tracks, and three tropical-themed mini-golf courses.
2. Gator Beach – Where else can you get up close to live alligators – and still be safe? Gator Beach boasts a population of 100 live alligators that you and the kids can feed. Yes, you can feed them. Gator Beach is open daily from 11 a.m. to 5 p.m. and admission is free. Families looking for inexpensive activities can't beat that. Don't miss the Florida wildlife exhibit area and absolutely have your photo taken holding a live alligator.
3. Emerald Coast Science Center – Indulge your child's curiosity and learn a few things yourself with a visit to the Emerald Coast Science Center. A fascinating combination of science and imagination, the Center has intriguing exhibits that include the reflecting Castle of Mirrors, electrifying Illuma Storm, a Vandergraph generator that literally raises the hair on your head, adult-sized bubble makers, and much more.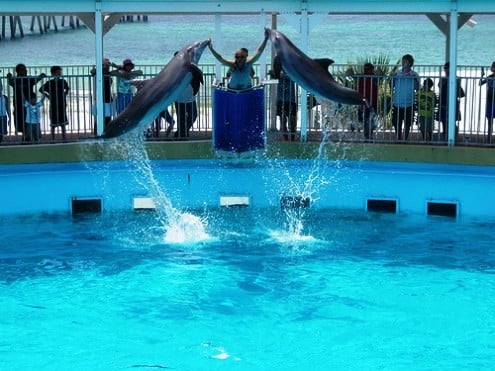 4. Gulfarium – America's second oldest marine park (since 1955), Gulfarium is the place to go with your family to see Atlantic bottlenose dolphins, Peruvian penguins, Ridley turtles, California sea lions and many more creatures of the deep in the 14 exciting exhibits. Kids will love the 18-foot leaps out of the water and comedic antics of Gulfarium's two dolphin stars, Princess and Delilah.
5. Air Force Armament Museum – What kid doesn't want to experience what it feels like to sit in the cockpit of an airplane? They can do that and more at the Air Force Armament Museum. Featuring more than 1,600 artifacts and 24 different aircraft, the Museum is a place where kids and adults can lose themselves for hours. There's even a 30-minute film on the development of air-to-air and air-to-ground munitions. The Museum is open daily (except Sundays and Federal holidays) from 9:30 a.m. to 4:30 p.m. – and be sure to take plenty of photographs.
Of course, you want a few more attractions to put on your agenda, and Destin is happy to oblige. Make sure you spend time at the beach and allow the kids to frolic in the water, build sand castles, and test their skills (under your supervision) in various water sports. Be sure to spend ample time at Henderson Beach State Park, one of the finest in the area.
Go canoeing, kayaking or tubing down a sand river or take an exhilarating dolphin cruise or see the ocean's creatures on a glass-bottomed boat. Visit the Track for go-karts, bumper cars and boats, mini-golf, arcade and bungee jumping. Enjoy fishing, biking, hiking, pontoon boats and more. When you've had your fill for the day, return to your Destin vacation rentals to rest up for tomorrow's adventures.