A pretty and prosperous little town about an hour's drive from Memphis, Oxford is home to literary great William Faulkner, and one of America's most beautiful campuses, the University of Mississippi, better known as 'Ole Miss'. Rowan Oak is the name of the graceful pre-Civil War mansion Faulkner purchased in 1930 for $6,000 (£3,850).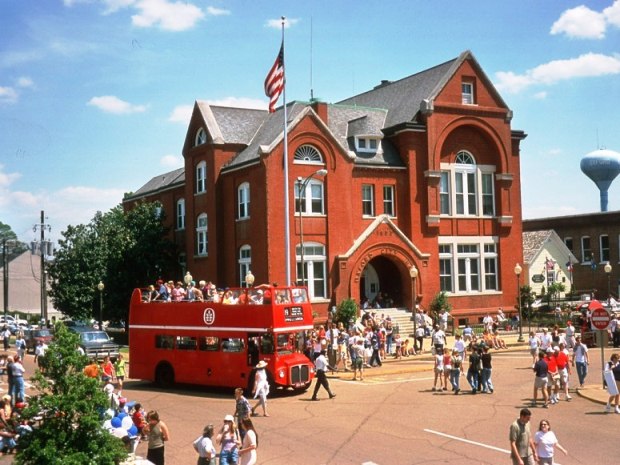 The Pulitzer and Nobel Prize-winning author of such classics as The Sound and the Fury, As I Lay Dying and Light in August spruced up the Greek Revival mansion but kept furnishings minimal. Walk down the 33-acre estate's red-dirt alley, lined by towering shade trees, to enter the two-storey home and see the private world where the pipe-smoking, moustachioed 'Mr. Bill' lived and worked. His sparse study holds a cot, his manual Underwood typewriter—and a whisky bottle within easy reach. Scrawled on the white wall is the outline for his novel The Fable.
Soak up more of the Faulkner mystique amid the aroma of freshly brewing coffee at nearby Square Books—widely regarded as one of the best independent bookstores in the country. Down the street is its offbeat outlet and bargain annex, Off Square Books. Old and new books are crammed into bins and shelves throughout the store, with creaking hardwood floors and comfy chairs for browsing.
Both bookstores are dominant fixtures of Oxford's nostalgic, all-American town square ('The Square'), a slice of Southern life rarely seen in cities today. The palpable sense that this is the prototypical Southern college town is never more ubiquitous than during home football games at Ole Miss—late August to late November—when marathon tailgating and good-natured mayhem abounds.
Oxford boasts a fair number of food destinations that lure day-trippers from nearby Memphis and gastronomes from all parts of the globe. One of the state's best eateries is John Currence's City Grocery, where fresh, inventive Southern cuisine consistently draws rave reviews and hungry crowds. The second-floor bar with a balcony overlooking the square is the best place in town to enjoy happy hour. The square's more down-to-earth Ajax Diner specialises in 'blue-plate' (low-cost, set-menu) lunches. On the outskirts of town is the one-of-a-kind Taylor Grocery and Restaurant, a crumbling old-time grocery store that habitués swear serves the most sublime cornmeal-crusted catfish in all of the South.
And where to park your luggage? Treat yourself to Puddin Place, a cosy two-storey Victorian house with a lovely veranda, built in 1892. It's within walking distance of Rowan Oak, the campus and the square, so you're never far from the heart of town.