Playa Blanca is one of the most popular resorts on the Canary Island of Lanzarote. It first sprung into life during the late 1980's, transforming what was once a small and sleepy fishing village into a modern tourist destination boasting a fine selection of accommodation, including some of the best hotels and villas in Lanzarote.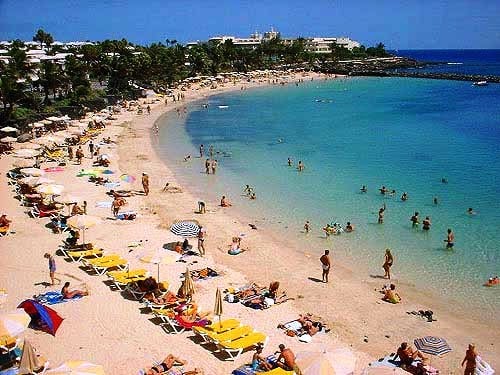 Weather and climate has played a key role in Playa Blanca's emergence – as the resort is located right in the south of the island, which means it enjoys more sunshine hours and higher temperatures as a result. This is even more salient during the winter months – when tourists can encounter a marked difference in microclimate between Playa Blanca and say Costa Teguise in the north.
Another important factor is that Playa Blanca is home to some of the best beaches on Lanzarote – with three superb sets of sand to explore within the resort, along with five more spectacular coves and bays at nearby Papagayo, which is just a ten minute stroll away from the centre of the town.
Many of the most exclusive holiday villas in Playa Blanca are located close to the delightful beach of Playa Flamingo, which is backed by colourful and well planted gardens and which is also sheltered by a giant volcanic stone sea break. This makes the beach here ideal for young families and swimmers. There are also lots of sun loungers and umbrellas for hire, along with plenty of good bars and restaurants within a short walk of the beach.
Take a stroll from Playa Flamingo past the harbour, where ferries depart for the neighbouring island of Fuerteventura throughout the day, and you soon come to the smaller and more central beach of Playa Blanca – from which the town takes its name. This is a much tinier stretch of sand than Playa Flamingo but remains very popular with both locals and tourists alike.
A further five minute stroll along the seafront promenade then brings you to Playa Dorada, which is the largest and most popular beach in the resort. Like Playa Flamingo there are plenty of decent facilities here along with bars and shops in close proximity. This is also an excellent choice for families with young children as the beach shelves gently into the water.
The real jewel in the crown though are the beaches at Papagayo – as unlike the man made playas in the resorts these are all natural and offer loads of scope for exploring, as each beach has its own identity and character. There are however few facilities here so it is sensible to take your own food, water and shade with you if you are planning a day out.
Playa Blanca is also located in close proximity to the Timanfaya National Park, which is the main visitor attraction on Lanzarote. This is the spot where volcanoes erupted hundreds of years ago and transformed much of the south of the island into a lunar wasteland. An amazing sight which shouldn't be missed if, you are planning on taking a break in Playa Blanca.