Northern Italy
To my mind, there is no place more magical on earth than Italy. Within the confines of its boot, there is something for everyone. For the gourmet, there is some of the finest food in the world. For the archeologist, there are some of the world's most ancient and best-preserved ruins to explore. The outdoors type can climb beautiful mountains and ski.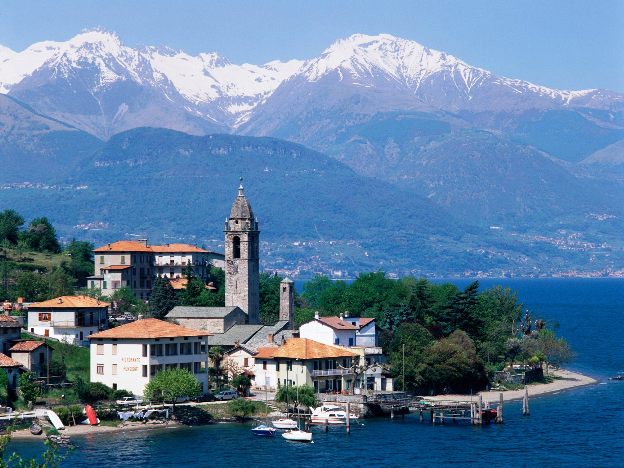 Art lovers cannot find enough time to see all the museums and churches filled with works by some of the world's best artists– Michelangelo, Leonardo da Vinci and Raphael, to name just a few. There is the Italian Riviera for those who like the beach and lakes for those who seek tranquility and beauty. Italy is truly a perfect place to explore.
Here is one of my favorite driving itineraries for northern Italy that combines beautiful towns, glorious mountains and stunning lakes.
First Stop–Asolo
Once you retrieve your car, you have a relatively short drive to your next destination, Asolo. After about an hour, you can stop in Treviso, a picturesque city, for a stroll. Treviso is a city to discover on foot, with its arcaded streets, painted houses, canals and 15th century ramparts that surround it. Its fashionable restaurants, bars, shops, squares and cultural spots invite you to spend a few hours and perhaps get a bite to eat.
From Treviso, you have another hour's drive to Asolo. Just a few kilometers before you reach your destination, you can stop in the town of Maser to see a villa designed by Italy's famous 16th century architect, Palladio, and decorated with frescoes by Paolo Veronese. An extra bonus is a museum of old carriages and antique cars.
After your visit to the villa you reach your destination for the day, Asolo, known as "The Pearl of the Province of Treviso" and also as "The City of a Hundred Horizons" for its mountain settings. This gem of a medieval village snuggles on the side of a hill with wonderful views of the countryside. A castle sits on the hill above the village, a cathedral dominates the square, and there are vineyards and olive trees on the hillsides. What else do you need? Apparently, Robert Browning, the romantic English poet, did not need anything more and made Asolo his home. If you can afford it, stay in Villa Cipriani, which was once Browning's home.
The Dolomite Mountains
From Asolo, you will make a loop up north through what is one of the most stunning regions of Italy—the Dolomite Mountains. Before World War I, this region belonged to Austria and most of the towns have retained some Austrian flavor, food and their former names. The major highway leads through Feltre and Belluno, and then goes on to the ski town of Cortina d'Ampezzo.
There is no reason to hurry. Drive casually through the slow and winding roads with hairpin bends and spectacular scenery. Stop in villages along the way. There are several good places to stay as a base for exploring the region. One is Corvara, a small village surrounded by beautiful mountains, and Cortina d'Ampezzo, a famous ski resort with a breathtaking location. The best thing to do here, weather permitting, is to stop your car and walk some of the well-marked trails winding their way through the hills.
Lake Garda
After you enjoyed the stunning views and fresh air of the mountains, it is time to head to the next portion of the itinerary, Italy's glorious lakes. It is a short drive from Merano to Bolzano, where you join the expressway (E7) heading towards Trent, famous for being the meeting place of the Catholic Council in the 16th century. From here, it is a relatively short drive to Lake Garda, Italy's largest lake. If possible, you should stay here for several days. If you are not in a hurry, you can take romantic boat excursions, get off at a colorful village that captures your eye and then hop back on another boat. The schedules are posted at each dock.
You can also go on a side trip to Verona, of Romeo and Juliet fame, and explore the fabulous villages that dot the lake. One of my favorites is Sirmione, a walled medieval village positioned on a small peninsula that juts into the lake. If you can, try to stay here overnight so you can enjoy the magic of this place in the evening, after the hordes of tourists have gone, and early morning, before they arrive. One of my favorite budget–priced hotels is the Hotel Grifone, right on the lake where I have spent many happy hours watching the ducks swim around. The restaurant is also highly recommended.



Lake Como
It is a crime to leave Lake Garda, but you have beautiful Lake Como to look forward to. Lake Como is one of the jewels of northern Italy, a beautiful glacial lake surrounded by stunning mountain peaks. Lake Como has long been a favorite spot for Europe's rich and famous. On your way there, you can stop in Bergamo, which has the Cita Alta (high city) that is worth visiting. It is also a good place to stop for lunch.
From there it is a short drive to Bellagio, a medieval fishing village on the lake, easily one of the most beautiful places to stay and a wonderful base for exploring the lake. If you want something fancy, you can stay at the Grand Hotel Villa Serbelloni, which is one of those impressive palace hotels with chandeliers and painted ceilings. I stayed at the simpler Hotel Florence, also highly recommended.
In Bellagio, you can also board one of the boats that make rounds on the lake stopping at colorful little villages and gliding past elegant villas and the beautiful coastline. One place worth visiting is Villa Carlotta, an 18th century palace with beautiful gardens built for a Prussian princess who truly knew how to live well. Nowadays people like George Clooney have discovered the beauties of having a home on this lake. In fact, he bought two.
If you can tear yourself away from the Lake Como area, you have something wonderful to look forward to. You are now driving to Lake Maggiore. What makes this lake special are its enchanting islands. There is Isola dei Percatori, (Fisherman's Island, still an active fishing village) with twisted narrow streets and colorful cottages. There is also Isola Bella, the aptly named beautiful island, with palaces and splendid, fragrant gardens. You will think that you have arrived in paradise.