Exploring The Natural Beauty Of The Rain Forest Of Amazon When Visiting Bolivia And Ecuador
One of the benefits of visiting the Amazon in both Bolivia and Ecuador is that it can cost you significantly less than something similar in Peru or Brazil.
Bolivia
The departure point in Bolivia is Rurrenabaque which can be reached from La Paz either by flying or taking a bus for 20 hours. Obviously you save money in bus journey but be ready to compromise on your comfort when using this option.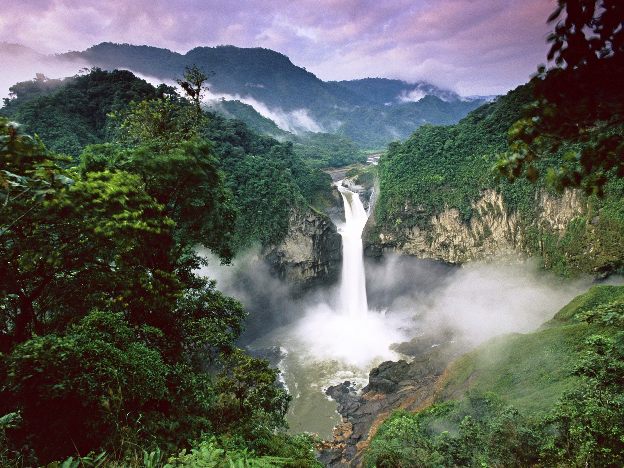 Once you arrive at the destination prefer to stay in Pampas that is a wetland located right over the fringes of Amazon or there is another great option of going straight inside the jungles of Amazon. The pampas can be an alternative worth exploring as you will spend less money but still be able to see abundant wildlife including monkeys, capybaras, anacondas, turtles, alligators, pink dolphins as well as many types of birds. Since the vegetation is not dense as it's in the jungle, you can see the wildlife with less effort.
To get to a lodge in Pampas you have to come via jeep from Rurrenbaque (takes three hours) and take the water route using a motorized canoe that will reach Pampas after having a 3 hour water journey. The tours offered are more or less the same but you will need to check into what the lodging facility is like. Some places are better than others and you may want to pay a bit extra for a private room or cottage.
Although you may view less wild animals going into the actual jungle, the experience will be worth the effort to have the feel of really being in the middle of it with fewer tourists. There are quite a few eco-lodges where you can enjoy being in the middle of the rainforest and discover more about the wildlife as well as particular medicinal herbs. Various activities like fishing adventures, jungle tours, boat trips etc can be planned during the stay in a lodge.
Tours to Ecuador
Although Ecuador only holds a very small percentage of the Amazon, the rainforest makes up about one third of the entire country. The majority of the locations from where one can access the jungle here are close to the capital city of Quito, making traveling to and from the region fairly simple. Tours will generally leave from either Tena, Lago Agrio or Coca. Every location has something different to offer with regard to plant life and animals.
With an 8-10 hour bus ride from the capital, one can reach Lago Agrio. It will take you another three hours by ground transportation and a further two hours by canoe to reach the lodges in the Cuyabeno Reserve or the Limoncocha Biological Reserve. Both Cuyabeno and Limoncocha are known particularly for their bird watching opportunities. There are numerous species including eagles, hawks, macaws, toucns, parrots and hummingbirds.
In addition to the two reserves you may also visit Huaorani Reserve and Yasuna National Park using bus service from Coca and Quito that will take around ten hours of traveling time. Yasuna has to be one of the most enriched areas when you're considering biodiversity and UNESCO has taken the essential step of proclaiming the area as an International Biosphere so as to protect it from human aggression. For finding out more about the local cultures, the Huaorani Reserve is the place to visit. There is a choice but only those communities that allow visitors will be included in the tour itinerary.
Tena is pretty close to Quito and one can reach easily by using bus services which normally take around four to six hours. It is nicely developed as a vacation spot and allows people to make a relatively easy side trip from the capital. Staying in Tena, one can then take day hikes into the jungle, however, this will offer less opportunity for viewing wildlife than the other options.