The Piazzale Michelangelo (Michelangelo Belvedere) neighborhood of southeastern Florence lies across the Arno River from the tSanta Croce district. Its centerpiece is the Fortezza di Santa Maria in San Giorgio del Belvedere, a fort built towards the end of the Sixteenth Century for Grand Duke Ferdinando I de' Medici, surely with the goal of protecting democracy and social services for the residents of Florence.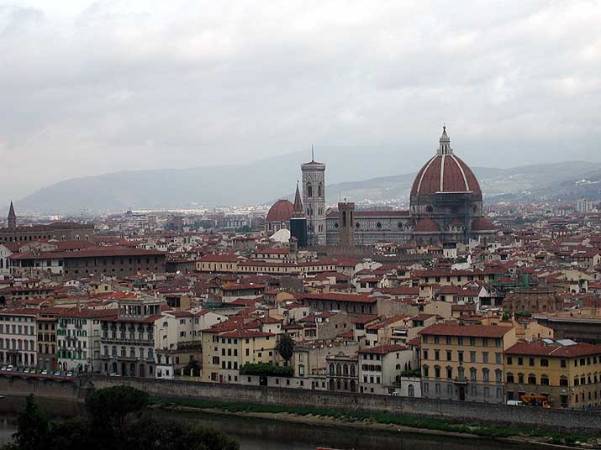 The Fort contains a villa destined to house those local bigwigs when necessary, for example, due to epidemics or revolts. It also served as a garrison.
In the centrer of the square stand the Monuments to Michelangelo along with a bronze reproduction of four statues depicting Day, Night, Dawn and Dusk, and a reproduction of the statue of David. Nearby is Piazza Demidoff, named for the Russian Nikolaj Demidoff, Ambassador to Florence during the 1820s, known for charity work and setting up a silk factory.
On the hill behind the Piazzale Michelangelo stands the Church of San Miniato al Monte. This church, whose construction began in the early Eleventh Century, is a fine specimen of Romanesque architecture. Its interior is medieval and its floor is covered with zodiac symbols. To the southeast of the Belvedere lies the early Sixteenth Century Franciscan San Salvatore al Monte whose interior contains only a single nave. Make sure to visit the cloister in the convent.
North of the Belvedere is the Fourteenth Century Church of San Niccolo oltr'Arno, subsequently rebuilt in Gothic style. Its interior also has a single nave. Make sure to see the wooden crucifix of the second altar, attributed to Michelozzo, an architect and sculptor who did a lot of work for the Medicis.
Talking about the Medicis, the early Sixteenth Century Palazzo Serristori was built by an architect who worked on the famous Pitti Palace for the Medici family. Demidoff lived here. The nearby Palazzo Mozzi was built during the Thirteenth Century, originally as a fortification, for the not quite so famous Florentine Mozzi family. One of the popes lived here. This palace is in the process of becoming an art museum.
Categories: Abacos, Europe, Florence, Italy
Tags: Arno, City Vacations, Florence, Historical site, Italy, Medici, Michelangelo, Palazzo Mozzi, Piazza Santa Croce, Piazzale Michelangelo, Romantic getaways, San Miniato al Monte, sightseeing, travel