Places to visit in Shanghai China
Shanghai is the largest city in China (13 million) and one of the largest cities in the world. It is a river and sea port, and an important railway junction. The city is situated on the Huangpu River, a tributary of the Yangtze. The river divides the city into two parts, Pudong to the east, and Puxi to the west. Shanghai is not just a major business center with offices of international corporations and a great number of exhibitions and conferences.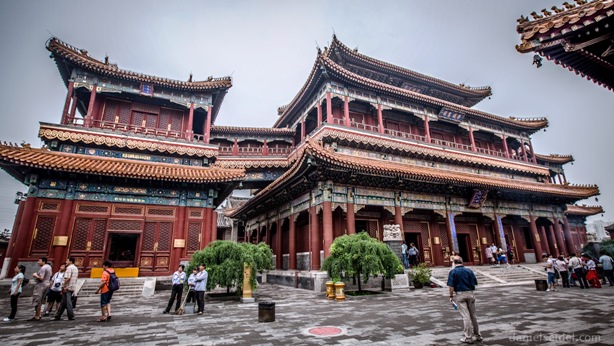 The city also offers a lot of tourist attractions, such as, for example, an unusual park called Garden of Joy (Yuyuan), a picturesque seafront Vaytan and famous Buddhist monastery of the Jade Buddha Temple (Yuyfosy). All this makes Shanghai an important tourist destination. Because of the special atmosphere and charm of this city it is often called the Paris of the East.
From downtown you can take a short trip to one of the Shanghai's Buddhist shrines, the Temple of Jade Buddha. It is one of the most famous sights in Shanghai. The temple was built in 1882 and received its name because of two sculptured images of Sakyamuni Buddha brought from Burma. A sitting statute of Buddha 1,9 m in height and over a ton in weight was cut from a single piece of white jade and is decorated with precious stones. Thetemple also is a storage of 72 volumes of Buddhist texts from the Ch'ing period.
Joy Garden (Yuyuan)
The most famous architectural and landscape ensemble in Shanghai is the Yuyuan Park (Garden of Joy). At the entrance, in the middle of a pond there is a pentagonal teahouse Husintin which used to be a home garden to the governor of the province. The bigger garden covers an area of four hectares. It has an original layout with artificial lakes, islands and hills. Here you submerge in the atmosphere of old China. Numerous pavilions, artificial ponds, bridges and rocks create an ambience of eternal joy. This is a classical style Chinese garden with a southern flair, dating over 400 years back. There are over 40 beautiful places, such as a dragon-shaped wall, twisted galleries, etc., which are to show the tourists the most valuable things the garden architecture of south China since the Ming and Qing dynasties has to demonstrate.
TV Tower, Pearl of the Orient
Shanghai TV Tower is the tallest tower in Asia and the third highest (468 m) tower in the world after Toronto Tower and Ostankino in Moscow. At heights of 263, 271 and 350 meters tourists may visit a revolving restaurant, bar, dance floor, space cabin with an observation deck, conference rooms and cafes. Today Pudong district is called a mirror reflecting the success of China's economic reforms, and the Tower is the business card of the Shanghai metropolis.
Categories: Abacos, Asia, China, Shanghai
Tags: Asia, China, Huangpu Park, Huangpu River, People's Square, Pudong, Shanghai, Shanghai Grand Theatre