Finding meals to go from food trucks in the nation's capital. I thought only the funky West Coast (especially hip cities such as Portland and Seattle) had glommed on to the food truck craze, but I was pleasantly surprised to find a ton of options in Washington, D.C., a place not necessarily known for being on the cutting edge of cool.

I experienced the capital food truck scene on a visit at the end of 2014. What I learned: Visitors need a primer on how to navigate the options because they can be confusing at first. There are lots of trucks. And they all change locations. It all makes sense, however, once you have the basics down.
Where to find them
Food trucks are assigned to locations around the city based on a monthly lottery. For example, if your favorite truck is at a given location on a Monday, you know it will be there for the remaining Mondays in that month.
There are about 10 official locations throughout the city where you'll find the majority of trucks. For visitors staying in the city, no hotel is too far from a food truck. You'll find many of the trucks parked on side streets surrounding the National Mall.
When to look
The trucks start serving food by 11:30 a.m. and usually wrap up by around 1:30 p.m. or 2:00 p.m. Occasionally, you'll find one that serves breakfast and is set up early. Every now and then you'll spot one serving dinner. But the majority are lunch only.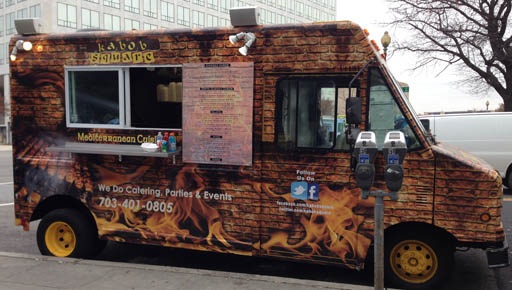 What's available to eat
D.C. is well known for its international cuisine, and the food truck scene is no different. Visit the trucks and you'll find Mediterranean, Italian, Thai, French, Indian, South American, and more.
All meals are served in to-go containers, making it easy to carry your lunch with you and enjoy elsewhere. This is critical during the winter months when it can be pretty cold outside and a park bench is not so inviting.
I found the food to be reasonably priced given that most local restaurants are pretty expensive. Not only are food trucks a great way to sample more foods, but they also are a fine way to save a little cash in the long run.
More details
Washington magazine's Best Bites column keeps a roster of which trucks are where, and editors update the list most mornings so you'll know where to find certain trucks every week. Not all trucks are listed.
Viewfinder Tip: To avoid lines at D.C. food trucks, go early or plan to swing by after the lunch rush.
For a complete list, check out Food Truck Fiesta. This site includes hundreds of food trucks, is updated in real time, and has specific locations for each truck. Alternately you can follow individual trucks on Twitter (most of them have accounts) to find out where they will be that day.
Trucks can park in any legal parking space, but they have to obey parking rules for that space. With most spots limited to two hours that can be an issue. A few years ago, the local government implemented a plan to designate some spots (those official locations I mentioned earlier) as four-hour parking from 11:00 a.m. to 3:00 p.m., thereby allowing trucks enough time for the lunch rush.
Overseen by the D.C., Maryland, and Virginia Food Truck Association, vendors who want a permit to park in the four-hour spots pay a quarterly fee to do so.
If there are too many vendors and not enough four-hour parking spots during that month's lottery, each truck owner has to find his or her own two-hour spot to park. This means it's not uncommon to find errant trucks nowhere near the official parking places. Often these trucks park in clusters, so you'll have more than one option, even at these unofficial spots.
Sounds like a good lunch to me.
What's your favorite take-away food?
Expedia compensates authors for their writings appearing on this site, such compensation may include travel and other costs.
This author has either a relationship with, or received other compensation (which may include monetary or in-kind compensation) from, the product or service providers that are the subject of this post.