Food trucks in Washington, DC

Finding meals to go from food trucks in the nation's capital. I thought only the funky West Coast (especially hip cities such as Portland and Seattle) had glommed on to the food truck craze, but I was pleasantly surprised to find a ton of options in Washington, D.C., a place not necessarily known for being on the cutting edge of cool.

I experienced the capital food truck scene on a visit at the end of 2014. What I learned: Visitors need a primer on how to navigate the options because they can be confusing at first. There are lots of trucks. And they all change locations. It all makes sense, however, once you have the basics down.
Where to find them
Food trucks are assigned to locations around the city based on a monthly lottery. For example, if your favorite truck is at a given location on a Monday, you know it will be there for the remaining Mondays in that month.
There are about 10 official locations throughout the city where you'll find the majority of trucks. For visitors staying in the city, no hotel is too far from a food truck. You'll find many of the trucks parked on side streets surrounding the National Mall.
When to look
The trucks start serving food by 11:30 a.m. and usually wrap up by around 1:30 p.m. or 2:00 p.m. Occasionally, you'll find one that serves breakfast and is set up early. Every now and then you'll spot one serving dinner. But the majority are lunch only.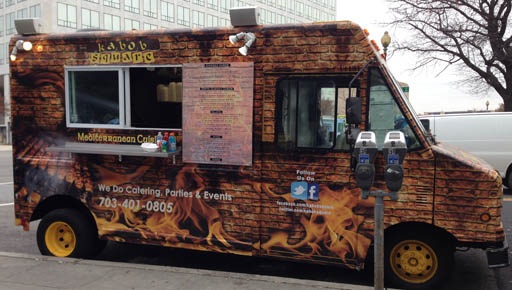 What's available to eat
D.C. is well known for its international cuisine, and the food truck scene is no different. Visit the trucks and you'll find Mediterranean, Italian, Thai, French, Indian, South American, and more.
Categories: Abacos, USA, Washington DC
Tags: D.C., etraveltrips, Food, food truck, travel, Washington, Washington DC