Experiencing food from Los Angeles' top trending chefs. The Los Angeles food scene is astir. The list of must-visit restaurants seems to be multiplying by the minute in the City of Angels, and many successful chefs and restaurateurs have opened multiple establishments around town where fans and followers can enjoy their signature styles of cooking in various permutations.

Restaurant hopping around Los Angeles
Here are a few examples of chefs who have risen to the top of the heap in Los Angeles. You can't go wrong if you dine at any of their restaurants. In fact, you'd be missing out if you didn't.
The rockin' trio

Chefs Jon Shook and Vinny Dotolo have created a refined food culture across their four Los Angeles restaurants. Their cooking style is brazen to say the least. Before opening their first restaurant, they cut their teeth (pun intended) by founding a successful catering company, landing a show on The Food Network, and penning a popular cookbook.
When they opened Animal in West Los Angeles, bold offerings such as crispy pig ear, rich bone marrow, chicken liver toast, and veal tongue incited a foodie revelation for Angelenos. The menu helped broaden palates to welcome new ingredients. Animal is no place for timid eaters or dieters, but if you're adventuresome, it's worth a try. Be sure to make a reservation or come right at opening hours to get a place at the bar.
Viewfinder Tip: Because Los Angeles traffic can be unpredictable, allow yourself plenty of travel-time to get to dinner reservations on time.
With their second spot, Son of A Gun, the Shook/Dotolo duo provided another opportunity for diners to experience some truly innovative cuisine, this time with an emphasis on seafood. The lobster roll and the shrimp toast are things of beauty.
Most recently, Shook and Dotolo have since teamed up with Ludo Lefebvre, an intrepid French chef, to create the restaurants, Trois Mec (meaning three guys in French) and Petit Trois. Lefebvre seems to favor rich, classic French ingredients and infuses them with vibrant and contrasting flavors that leave me wanting more.
The experience at Trois Mec comprises multiple small courses that take you on a unique and flavorful joyride. To dine here you must purchase tickets in advance.
Petit Trois is a Parisian-inspired bar. My favorite dish there is the fried chicken leg coated with a salty, garlic shell and topped with a light salad that boasts an acidic dressing to counter the savory notes of the chicken. This dish is a punch to the mouth in a grand way. Also on the menu are unctuous, Burgundy escargots that can be eaten with freshly baked French bread. When you go, don't pass up desert and an espresso.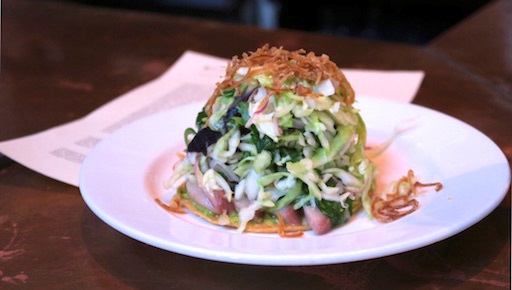 The hamachi tostada at Animal Restaurant
The street food emperor
Born and raised in Los Angeles as the son of Korean immigrants, Roy Choi is best known as the godfather of the food truck movement, with his Kogi Taco Trucks. His style combines flavors and ingredients of various cultures to create a whole new culinary experience. And he is no stranger to the limelight these days, with his Street Food with Roy Choi series on CNN, and his work with Jon Favreau on the movie, "Chef."
Choi's Kogi Taco Truck offerings combine Korean flavors with a Mexican street food technique that has long been a Los Angeles favorite. The easiest way to get a pair of his calamari tacos or an order of his sweet chili chicken quesadilla is to swing by the truck parked at Alibi Room in the evening, or the one parked right inside Terminal 4 at Los Angeles International Airport.
Choi's A-Frame restaurant, in Culver City, mixes traditional Hawaiian cuisine with pan-Asian flavors. The result is comfort food with tastes you likely never have had together before. The Eight-Legged Duck is a baby octopus terrine with seared foie gras, crispy rice, shallots, and sweet chili sauce. The Pork Belly Lechon Ssam is an interactive dish; you match crispy slices of pork belly with cucumber, chilies, and fresh herbs, and you wrap them all in Bibb lettuce leaves. Enjoying these bold dishes with a craft cocktail or a locally brewed beer is a joyous occasion.
Also in Choi's portfolio of must-try LA eateries is Commissary, the beautiful rooftop restaurant at The LINE Hotel. This place makes vegetables the main event. Additionally at the LINE Hotel, you can try his homey Korean stews and specialties at POT. And in Chinatown in Downtown Los Angeles, Chego serves comforting and spicy rice bowl meals.
When you visit a new city, what kinds of restaurants do you seek out?
Expedia compensates authors for their writings appearing on this site, such compensation may include travel and other costs.