Fort Mandan and the Lewis and Clark Trail Washburn, North Dakota
In mid-October 1804, Meriwether Lewis and William Clark crossed into the North Dakota Territory on the first leg of their great expedition, directed by Thomas Jefferson to find "the most direct and practical water communication across the continent". Travelling up the Missouri River, they arrived at the Mandan Indian villages of Mitutanka and Nuptadi, which were major trading centres for numerous Native tribes and European traders. Here, they spent the winter, building cabins and a palisade wall that they named Fort Mandan in honour of their hosts, who supplied them with food in exchange for goods.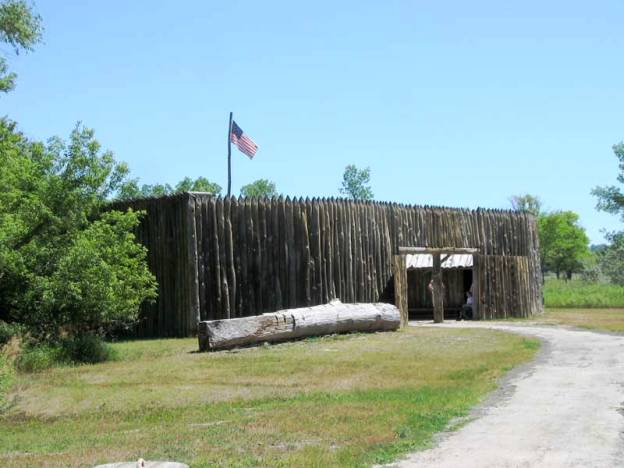 Among the Indians they met there was Sakakawea, a Shoshone woman believed to have been born in the Rocky Mountains and kidnapped in 1800 by Hidatsa Indians. Later, she married French Canadian fur trader Toussaint Charbonneau. As she spoke Shoshone and Hidatsa, and Charbonneau spoke Hidatsa and French, Lewis and Clark hired them both as interpreters. On April 7, 1805, the party set off west, Sakakawea carrying her infant son, Pomp, on her back. As it turned out, her presence was invaluable to the expedition, not only as an interpreter but also as a pacifying influence on Indians who had never seen a white man before. In Native culture, a war party never travelled with a woman, especially not one with a baby.
The original Fort Mandan was destroyed by fire, and the remains were lost, but a full-scale replica was built in 1972 amid riverbank cottonwoods near the location of the original fort. In 1997, the interpretive displays were added, and today it's open to the public year-round, its rough furnishings and supplies mirroring those of the expedition's members during their winter residence.
Categories: Abacos, North Dakota, USA, Washburn
Tags: Adventure Travel, Fort Mandan, Great Plains, Historical site, Meriwether Lewis, Museums, North Dakota, Toussaint Charbonneau, Washburn