Thailand, distinctively known as "The Land of Smiles" is considered to be among the top favorite destinations for thousands of visiting tourists from around the world. Blessed with an amazing combination of cosmopolitan lifestyle, food, shopping, nightlife, tradition, and white sand beaches, it is a cinch to say that Thailand is a paradise on earth. Whether you are a budget-conscious traveler, an experienced jet-setter or a wide-eyed honeymooner, Thailand simply never fails to amaze.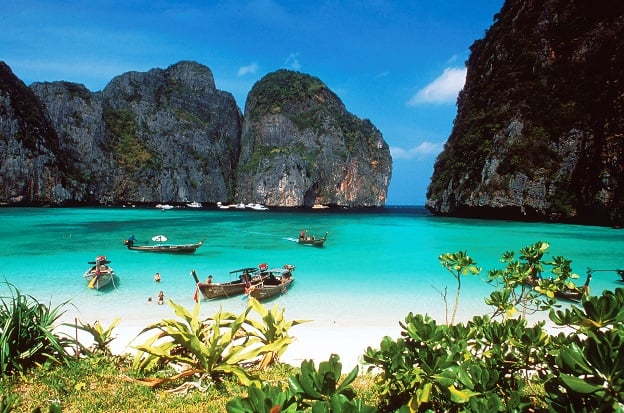 If you are embarking on an adventure to Thailand, you obviously need to check out the best places to go, and the finest hotels to stay. Local and international tourists alike will no doubt easily point you to one of the most revered getaways in the country, the tropical paradise of Krabi.
Where exactly is Krabi? A 90-minute plane ride from the capital city of Bangkok, Krabi is located on the west coast of Southern Thailand, facing the glorious Andaman Sea. The province of Krabi features an unparalleled backdrop with a coastline of more than 200 islands, majestic beaches, coral reefs and idyllic landscapes; and is also a famous location for some of the most romantic scenes in major Hollywood films. If you are now enticed to go on a vacation in Krabi, you may want to check out some of the most renowned Krabi Hotels.
1. Pavilion Queen's Bay  Krabi Hotels Ao Nang are popular. Situated on top of a hill overlooking the picturesque Ao Nang Beach, Pavilion Queen's Bay is a 106-unit facility providing spacious rooms, first-class amenities, and state-of-the-art facilities. The rooms are complimented by the faade of the Andaman Sea. Its location makes a good 30-minute drive from the airport.
2. Maritime Park & Spa Resort – An idyllic accommodation for opulence and grandeur, Maritime Park & Spa Resort is conveniently located near the beach and is set amidst a lush tropical paradise, making it an ideal place for guests who want to enjoy the serenity at its best. With 221 rooms, guests can enjoy the picturesque vista of the lush foliage surrounding the hotel from their own private balconies.
Categories: Abacos, Asia, Krabi, Thailand
Tags: Adventure Travel, Ao Nang, Asia, Bangkok, Beach Vacation, exotic beaches, Family vacations, Hotel, Krabi, Land of Smiles, Thailand