Golf Courses to play in Myrtle Beach South Carolina
The Myrtle Beach Golf Course in South Carolina has become famous for the golfing experience there, many people travel to what has become the Grand Strand, specifically for this purpose.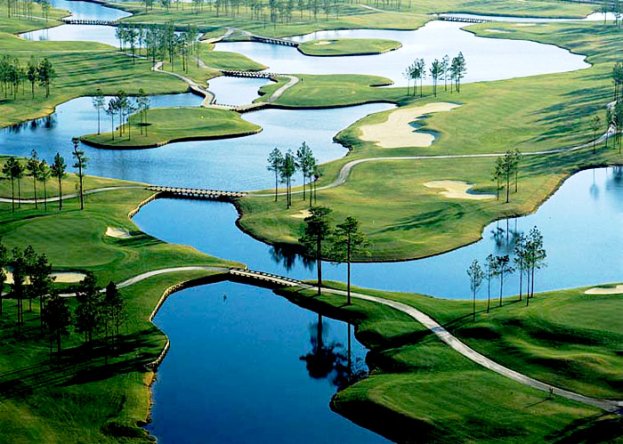 The area includes more than one hundred Myrtle Beach Golf Courses throughout, with the golfing being provided on an individual basis and also through golf package deals. It depends on what you are looking for from a Myrtle Beach Golf Course, you will find it here. The Myrtle Beach Golf Course is designed by some of the greats, such as Tom Jackson, P.B. Dye, Clyde Johnston, George Fazio, Rees Jones, Gene Hamm, Fred Couples, William Byrd, David Johnson, and Jack Nicklaus.
The Myrtle Beach Gold Course is well-flattered. The Aberdeen Country Club features the "Meadows", "Highlands", and "Woodlands" nines, and has received Golf Digest's medallions for value and service, as well as the Blackmoor Country Club. Both Golf Digest and Golf Magazine have named the Arcadian Shores Golf Club as a "Course of Distinction", while Golf Magazine selected Grande Dunes as "Top Ten You Can Play."
At the Ocean Ridge Plantation, there is Lion's Paw, it has been judged by Golf Digest as one of the "Places to stay" and "Best in the Myrtle Beach Area." Oyster Bay Myrtle Beach Golf Course is seen as one of the top fifty public courses in the country. Golf Week selected River Hills Golf Club as one of the top fifty in the southeast area, though River Oaks was rated one of the top five on the Grand Strand by Golf Course Magazine. Tidewater Golf Club and Plantation has been ranked the highest on the Grand Strand and one of the top thirty-two public Myrtle Beach Golf courses in American since its first appearance. Golf Digest refers to True Blue as the seventh best in South Carolina and the number one Myrtle Beach Golf course.
Categories: Abacos, Golf, Myrtle Beach, South Carolina, USA
Tags: etraveltrips, George Fazio, Golf, Golf courses, Golf Digest, Golf Magazine, Golf Vacation, Grand Strand, Grande Dunes, Myrtle Beach Golf Course, Myrtle Beach South Carolina, South Carolina