Gulf Shores, Alabama: Beatiful Coastal Escape
The picturesque waterfront destination that is Gulf Shores, Alabama is the perfect place for your next getaway vacation if the sound of stunning sands, crystal clear water, and numerous attractions is music to your ears. Whether you want to lounge along the Gulf Coast or set out on an adventure full of recreational pursuits, Gulf Shores has everything you need for a memorable and exciting retreat.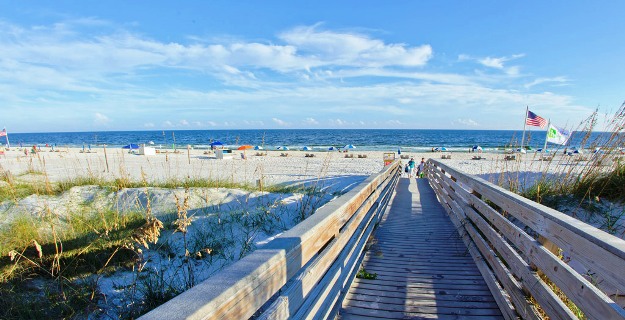 While most vacation destinations boast of pristine beaches and gorgeous, warm waters, Gulf Shores lives up to its reputation with some of the most incredibility beautiful beaches along the Gulf of Mexico. Image miles and miles of sugar white sand that pierces into crisp, clean, emerald waters, and you have barely come to grasp how truly breathtaking this area is. With water temperatures around 70 degrees year-round and hardly a day where you need to fight for the perfect sunning spot, the beaches of Gulf Shores are definitely a worthwhile reason to check out this little vacation spot.
When searching for a place to pursue your favorite waterfront activities, consider the two and half miles of pure excitement that Gulf State Park has to offer. In addition to the swimming, surfing, shelling, snorkeling, and sunbathing opportunities off of its sun-kissed beaches, visitors also have access to freshwater fishing, swimming, and boating on the 900-acre Lake Shelby.
For those who want to explore the natural wonders of coastal Alabama, the Bon Secour National Wildlife Refuge is an excellent spot for viewing the native flora and fauna of the region. There are two hiking trails, the four mile Pine Beach Trail and the one mile Jeff Friend Trail, that wind through the gorgeous landscape and offer the possibility of a coyote, red fox, bobcat, alligator, or armadillo sighting. Sea turtle nesting season lasts from mid-May through mid-August, and migratory birds use the area as a stopover in April, May, September, and October.
Categories: Abacos, Alabama, Gulf Shore, USA
Tags: Alabama, Alabama Gulf Coast Zoo, Bon Secour National Wildlife Refuge, Golf, Gulf of Mexico, Gulf Shores, Gulf Shores Alabama, Gulf State Park, Waterville USA