Chicago, Illinois The Art Institute of Chicago
For most of its history, Chicago has trailed New York City in key rankings in America—hence its nickname 'Second City'—but its cultural offerings today put it among the first rank of cities anywhere. At the top of the list are the Chicago Symphony and Lyric Opera; top theatres such as the Steppenwolf, Second City and Goodman; public art, including sculptures by Pablo Picasso and Joan Miró in and around Daley Plaza; and the Art Institute of Chicago, the crowning glory of the city's lakefront.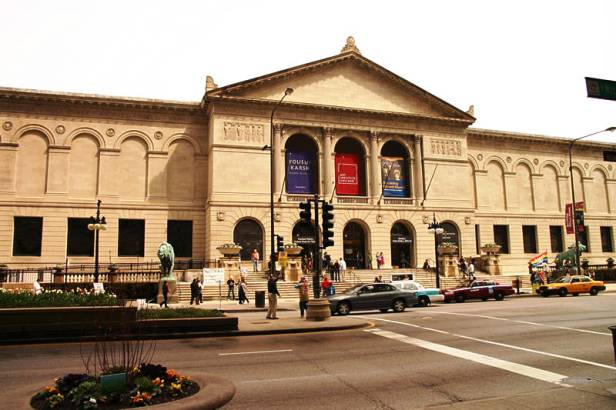 Opened in 1879, the Art Institute is one of the United States' premier art schools, with former students ranging from Thomas Hart Benton and Georgia O'Keeffe to Orson Welles and Walt Disney. More important to the visitor who doesn't plan on taking classes, it houses one of the world's greatest art collections, some 260,000 works spanning nearly five millennia, in a handsome beaux arts structure built for the 1892-93 World's Columbian Exposition.
The Institute is known worldwide for its collection of Impressionist and Post-Impressionist paintings, one of the most extensive outside Paris's Musée d'Orsay. Among the more than 30 Monets are a half dozen from the Haystacks series, occupying nearly an entire wall; there are also important works by Cézanne, Renoir, van Gogh, Gauguin, Toulouse-Lautrec and Seurat (his pointillist masterpiece A Sunday on La Grande Jatte). Gustave Caillebotte's Paris Street, Rainy Day takes centre stage at the top of the staircase leading to the second level. The American collection is renowned—it includes the iconic American Gothic by Grant Wood and Edward Hopper's sombre portrait of urban loneliness, Nighthawks—as is the pioneering collection of photography.
The building itself is a Chicago landmark and its broad front steps, a favourite meeting place, are flanked by two large bronze lions, which get dressed up for public holidays and other special occasions. And in the best Chicago tradition, the Art Institute has further raised its profile with cutting-edge architecture in its latest addition, which opened in 2009. With a typically light-filled and gravity-defying design by Renzo Piano, the new Modern Wing houses exhibits of modern and contemporary art and architecture, and also features a rooftop terrace for views of the Second City that are second to none.