Enjoy the pure pleasures of New England's summer playground
Cape Cod National Seashore is a 40-mile stretch of rolling dunes and gorgeous beaches that unfurls along the Outer Cape, from Chatham north to Provincetown. President John F. Kennedy, a long-time summer resident of Hyannisport, granted the seashore federal protection in 1961, well over a century after Henry David Thoreau (who wrote of "the bare and bended arm of Massachusetts" in the mid-1800s) wandered the dunes, where "a man can stand and put all America behind him."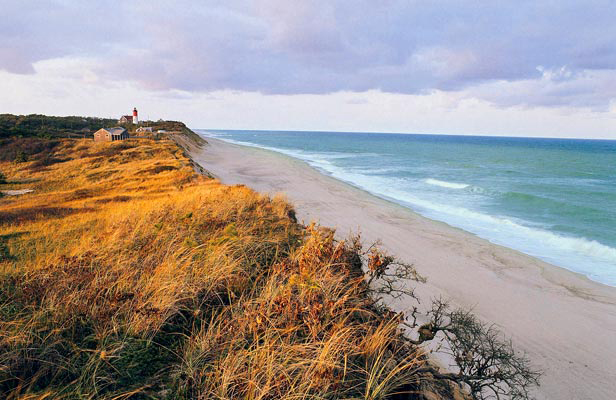 More than 43,000 glorious acres unfold along the unruly Atlantic, where lighthouses overlook wide beaches, vast stretches of dune grass, nature trails, salt marshes and kettle ponds, and where the play and quality of light have long drawn artists and writers. South of Chatham, the Monomoy National Wildlife Refuge extends eight miles into the ocean and attracts 350-plus species of birds that use the Outer Cape as a flyway. Once a peninsula, the refuge now spreads over three distinct islands and is uninhabited except for its summer population of some 7,000 grey seals. Back on terra firma, follow the two-lane Old King's Highway (modern-day Route 6A) from Orleans west to the Cape Cod Canal, which separates the peninsula from the mainland. Over its 34 miles, the road opens to dramatic water views and passes a plethora of antiques shops to fill your afternoon with browsing.
In the town of Chatham, shops, art galleries and eateries line picture-perfect Main Street, a stretch of clapboard buildings, white picket fences and flowering gardens and window boxes. Built in 1839, the dignified Captain's House Inn has romantic rooms with four-poster beds and fireplaces.
Towards the tip of Cape Cod's northern end, the highway that crosses the rest of the peninsula dwindles to a two-lane road. Then Provincetown appears. A seaside town surrounded by gorgeous dunes and inviting beaches, the long-time fishing port and artists' colony is one of the best-known gay communities in the world. The year-round population of just over 3,000 grows tenfold in the summer. Walking along Commercial Street is the best way to get the feel of this casual, welcoming place, equally popular for day-trippers and drag queens, seekers of tacky souvenirs and fine art, beach bums and party animals.
Art's Dune Tours take visitors on excursions around Provincetown's sandy surroundings, pointing out the battered 'dune shacks' that for decades have served as retreats for the artists who came for the end-of-the-world atmosphere and special light; the shacks are now National Historic Landmarks.