Have the time of your life at Walt Disney World America's capital of fun
The brainchild of entertainment giant and genius animator Walt Disney is an ever-expanding universe of make believe and escapism, celebrating magic, technology, nature and, of course, Mickey Mouse. Walt Disney World is the ultimate theme park and the most popular tourist attraction on the planet. In the 30-plus years since it opened its doors, the 30,000-acre former cow pasture has grown to encompass four distinct parks and an assortment of other entertainments.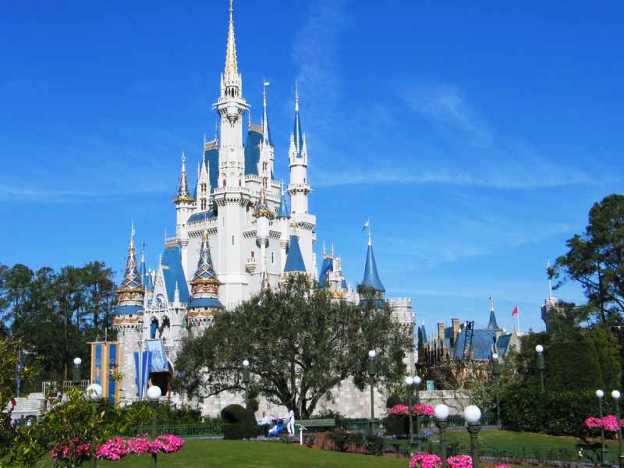 The original park is the Disneyland-ish Magic Kingdom, with the iconic Cinderella's Castle at its centre and seven themed 'lands' radiating outward, full of classic rides and entertainment like Pirates of the Caribbean, the Hall of Presidents, Country Bear Jamboree and the beloved It's a Small World. Frontierland brings childhood back for American grandparents raised on tales of Daniel Boone, while Tomorrowland balances old tomorrow and new with the '70s-era Space Mountain and the 21st-century Buzz Lightyear's Space Ranger Spin.
Epcot, the Experimental Prototype Community of Tomorrow, isn't exactly what Walt had in mind when he conceived of a residential community that would also be a laboratory, continually trying out new theories and technologies to improve urban life. Finally opened in 1982, almost 16 years after Walt's death, it's a mix of science-oriented films, rides and exhibitions with 11 countries and their cultures represented in pavilions around a 40-acre lagoon. Thrill rides include the Mission: Space astronaut adventure and Test Track, which mimics the stress tests new cars are put through.
Disney-MGM Studios is, appropriately enough, the most theatrical of the Disney parks, in a big-budget Hollywood sense: all fast editing, big explosions and pricey special effects (plus a few film-themed shows starring the Muppets, the Little Mermaid and other children's favourites). The Aerosmith-themed Rock 'n' Roller Coaster takes you on a fast ride through L.A. in the band's limousine, while the Twilight Zone of Terror takes you up 13 storeys, drops you, then does it all over again. Things are a lot different over at Disney's newest park, the 500-acre Animal Kingdom, where real jungle creatures and landscapes create an African safari experience not unlike that of a trip to Botswana.
Categories: Abacos, Florida, Orlando, USA
Tags: Amusement parks, Family vacations, Florida, Orlando, Walt Disney World