KAZ Vineyards & Winery Sonoma County, California
So you are in Wine Country and you want a truly unique experience. No big tasting rooms, no faux Tuscan villas and definitely no million case production facilities. No, what you want is something different, small even, but with lots of personality, character (and characters) and, perhaps a measure of quirkiness. Then welcome to Kaz Vineyards & Winery near the small Sonoma Valley town of Kenwood, where fine wines, and that hard-to-define quirkiness, exists to a delightful degree.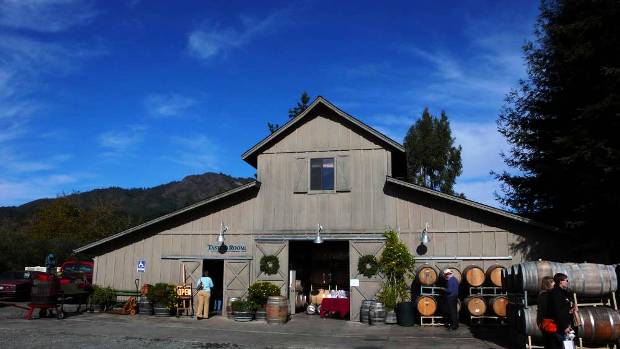 Production at Kaz Vineyards & Winery may be on the small side – about 1500 cases a year – but the number of wines offered in terms of different labels is anything but paltry. They range from the traditional varietals like Sauvignon Blanc, Chardonnay, Sangiovese, Zinfandel, Grenache, both Petit Sirah and Syrah, Cabernet Sauvignon and Cabernet Franc, to the more obscure grapes such as Mourvedre, Alicante Bouschet and a Nebbiolo that is found in the Rose labeled Trixie's Secret.
As if that were not enough of a list, at Kaz there are also three first-rate Ports, as well as table wines and a blend called "Mary Tauge" that consists of Cabernet and Petit Verdot grapes. Then there is the Say "Rah" and Red Said Fred (Cabernet, Zinfandel, Merlot and Petite Sirah) and a Petit Sirah called, inexplicably, Dudes. If some of the humor is a bit obscure just ask; they will be more than happy to let you in on the joke. Oh, and if you want to buy any of their wines? Better do it at the tasting room; they don't distribute.
The person behind all of this is owner Richard "Kaz" Kasmier. He used to be a commercial photographer but was also the first local organic grape grower. He's been making wine since 1985, but until 1994, when the winery became bonded, it was pretty much his hobby. He soon discovered that running a working winery, growing grapes and paying the bills is a lot of work day-to-day, so he made the transition from hobbyist to professional, a move that also made his organic wines quite well known to much larger audience.
Categories: Abacos, California, Sonoma, USA
Tags: California, Sonoma County, Wine, Wine tours