So you are in Wine Country and you want a truly unique experience. No big tasting rooms, no faux Tuscan villas and definitely no million case production facilities. No, what you want is something different, small even, but with lots of personality, character (and characters) and, perhaps a measure of quirkiness. Then welcome to Kaz Vineyards & Winery near the small Sonoma Valley town of Kenwood, where fine wines, and that hard-to-define quirkiness, exists to a delightful degree.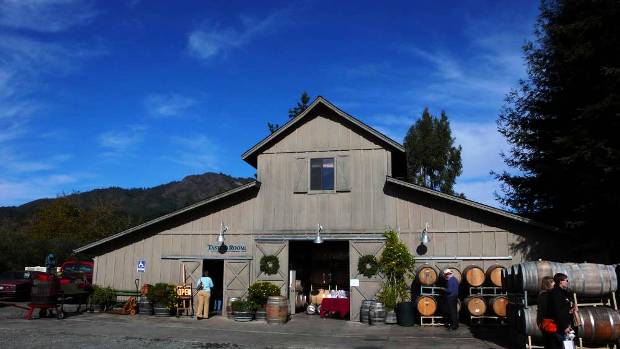 Production at Kaz Vineyards & Winery may be on the small side – about 1500 cases a year – but the number of wines offered in terms of different labels is anything but paltry. They range from the traditional varietals like Sauvignon Blanc, Chardonnay, Sangiovese, Zinfandel, Grenache, both Petit Sirah and Syrah, Cabernet Sauvignon and Cabernet Franc, to the more obscure grapes such as Mourvedre, Alicante Bouschet and a Nebbiolo that is found in the Rose labeled Trixie's Secret.
As if that were not enough of a list, at Kaz there are also three first-rate Ports, as well as table wines and a blend called "Mary Tauge" that consists of Cabernet and Petit Verdot grapes. Then there is the Say "Rah" and Red Said Fred (Cabernet, Zinfandel, Merlot and Petite Sirah) and a Petit Sirah called, inexplicably, Dudes. If some of the humor is a bit obscure just ask; they will be more than happy to let you in on the joke. Oh, and if you want to buy any of their wines? Better do it at the tasting room; they don't distribute.
The person behind all of this is owner Richard "Kaz" Kasmier. He used to be a commercial photographer but was also the first local organic grape grower. He's been making wine since 1985, but until 1994, when the winery became bonded, it was pretty much his hobby. He soon discovered that running a working winery, growing grapes and paying the bills is a lot of work day-to-day, so he made the transition from hobbyist to professional, a move that also made his organic wines quite well known to much larger audience.
The labels he designs for his collection of bottlings only added to the winery's renown, both in the early years and today. The fact that his wife, daughter and son were willing to pitch in was another big factor in his decision and success. "It's nice having cheap labor," he says with a laugh when the subject of family involvement is mentioned.
You will likely (almost certainly) find some of that "cheap labor" doing the pouring in "the Barn," the winery/tasting room/office. It is a handsome building with three barn doors opening onto the parking and sometimes barrel storage area. Around back is a tree-shaded picnic area and garden and everywhere you look are small vineyards, tall fir trees, hills in the distance and a very informal tasting room where the emphasis is on fun, not on pretension. Sample the wines (usually there are close to a dozen being poured), laugh, ask questions and – the key words – relax and enjoy the wines, since that is what a visit to Kaz Winery is all about.
To sum it up in a very few words, you are welcome to come to this one-of-a-kind winery and "see the way Wine Country used to be." An invitation that is hard to resist.
The Kaz Vineyard & Winery tasting room (aka – the "Barn") is located at 233 Adobe Canyon Road (off of Highway 12) in Kenwood. You can also look them up on the Internet at www.kazwinery.com or call them up toll free at 1-877-833-2536. They are open Friday, Saturday, Sunday and Monday, from 11 a.m. until 5 p.m.