The historic center of Siena, Tuscany has been named is a World Heritage Site. It is one of the most popular Italian tourist destinations. The local Duomo is one of the country's finest Gothic cathedrals. Its main facade was completed in 1380.
This magnificent building boasts the oldest stained glass in Italy, inlaid-marble floors that took more than 40 artists over 200 years to complete, and lots more. Don't miss the Cripta (Crypt) that was recently rediscovered after perhaps 700 years.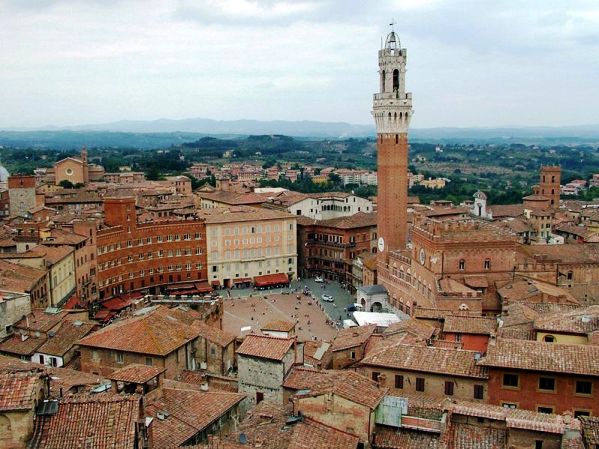 Other sights are the Battistero (Baptistery), the Museo dell'Opera Metropolitana, Pinacoteca Nazionale, and the Spedale de Santa Maria della Scala, a great bunch of museums. For your convenience we have listed these hotels and the bed and breakfast in approximate order of cost, starting with the least expensive.
The Hotel Palazzo Fani Mignanelli, also known as the Residenza d'Epoca Palazzo Fani Mignanelli, offers 11 rooms plus a Junior Suite.
Nestled in the heart of Siena's historical center, just a few steps from Piazza del Campo, the hotel Palazzo Fani Mignanelli offers comfortable relaxing accommodations in an intimate boutique hotel setting. Whether you are in Siena on vacation, business, or to study our charming hotel is an ideal place to stay while enjoying Siena and its fascinating history. The hotel has been renovated recently.
The Bed & Breakfast Residenza San Domenico  is situated in the historical centre of Siena, a few steps from the Basilica di San Domenico and the famous Piazza del Campo. The structure consists of 6 ell-lit double room, some of which have a wonderful panoramic view of the city.
All of them have a private bathroom. The detailed furniture and the decoration of the ceilings create a warm and welcoming atmosphere. More over the mezzanines provided with sofa-bed make it the ideal place for couple and families with children. Furthermore, each room has a mini kitchenette with dishes, sink electric cooker and oven to cook.
Categories: Abacos, Europe, Italy, Siena, Tuscany
Tags: Basilica of San Domenico, Campo, Historical site, Italy, Luxury Hotels, Piazza del Campo, Santa Maria della Scala, Shopping, Siena, sightseeing, Tuscany, UNESCO historical site, vacation, World Heritage Site