Since opening in 1946, La Maison Arabe has achieved a legendary status in Marrakech. Ideally situated in the medina, the hotel includes 26 rooms and suites, most with private terraces and fireplaces, 3 restaurants, a piano bar, a world-famous cooking school (open to guests staying at the hotel or elsewhere in town) as well as a new spa including a traditional hammam, where natural products from the region of Marrakech are used.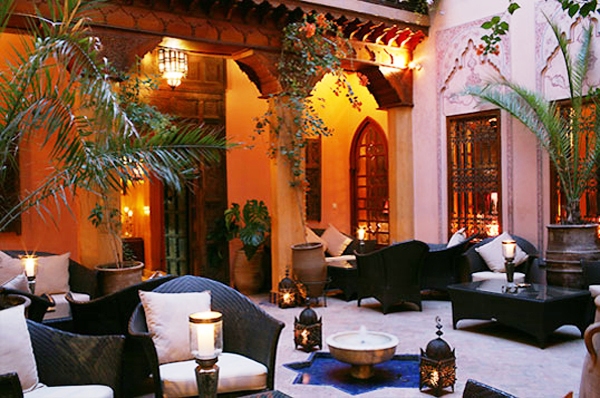 Guests at La Maison Arabe have a choice of swimming pools. One can relax at either the heated pool in the hotel's garden patio, or at the pool located at the spectacular Country Club, 15 minutes away by complimentary shuttle. Walking through the hotel's flower-filled patios, one can admire the traditional Moroccan craftsmanship (tadelakt walls, chiseled plaster, cedar wood ceilings) that has created a refined, exotic and serene atmosphere for  guests.
Guest Accommodations
Each of the 12 rooms and 14 suites, most with fireplace and private terrace, is unique in layout and refined decoration.
All are air conditioned and centrally heated, and include a mini-bar, safe, satellite television and WIFI internet access. The bathrooms, designed using Moroccan marble and granite, are at the highest level of international luxury hotel standards.
Breakfast – either continental with homemade pastries, or deliciously Moroccan – is served in one's room, or at the buffet by the swimming pool downstairs.
An impeccable room service offers light meals or snacks for those who wish to dine in private.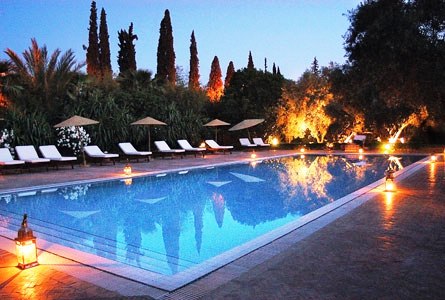 Hammam & Wellness Center
The brand new Wellness Center at La Maison Arabe includes 2 hammams (traditional Moorish steam baths) and 5 massage rooms (4 single and 1 double).
Here one can relax and experience a traditional Moroccan massage using natural products specially made for
La Maison Arabe
Facials, manicures and pedicures are also available to complement the relaxing effect of the hammam.
Les Trois Saveurs
French – Moroccan – Asian cuisine
The entrance to the restaurant "Les Trois Saveurs" is lit by sumptuous teardrop-shaped lanterns, masterpieces of Moroccan craftsmanship that were specially designed for La Maison Arabe.
Inside, walls covered in striped grey tadelakt and red ceilings create an intimate atmosphere where one discovers a menu prepared by three chefs. One can choose from French, Moroccan, or Asian dishes, which can be savoured indoors, or on the adjoining terrace overlooking the swimming pool and gardens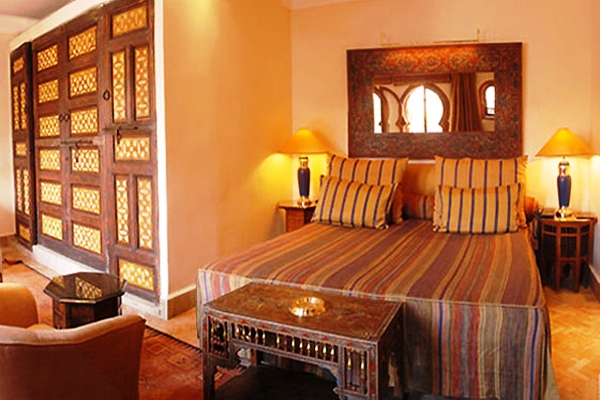 Other information
Complimentary afternoon tea is served in the lounge between 5pm and 7pm consisting of peppermint tea and a choice of biscuits.
The adjacent Doukkala Mosque's call to prayer happens five times a day, including one at sunrise, guests may want to take ear-plugs.
Guests can enjoy La Maison Arabe's private country club annex in La Palmeraie area of Marrakech.
Cooking workshops (8 persons maximum) allow guests to prepare an appetizer and a main dish, or a main dish and dessert. A cooking workshop for two costs €150.
La Maison Arabe is a 15-20 minute drive from Marrakesh airport. The riad is located near the Bab Doukkala mosque, a 10 minute walk from the city centre.
For more information pm La Maison Arabe click the link below
https://www.etraveltrips.com/eTravelTrips/hotels_list_details.php?image=7069