Rising 22 stories above the pulse of the city, you will find a Minneapolis hotel with a history of excellence. The Loews Minneapolis Hotel  is located at the confluence of business, theatre and entertainment districts, in the heart of downtown Minneapolis. Standing directly across the street from the Target Center, the hotel is connected by Skyway to the entire shopping and business district.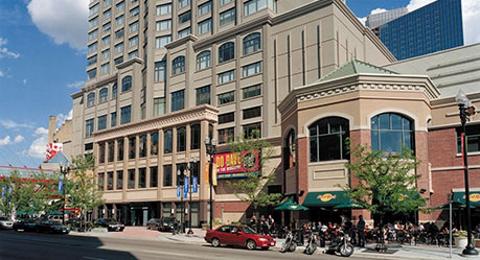 The contemporary styling is consistent throughout the hotel from the furnishings and interior décor to cutting edge technology. Amenities include a 24-hour business centre with two computer stations, fax and copy machines. There is a spacious fitness room equipped with treadmills, climbers, flat screen TVs and an on site massage therapist. Guests may also use the athletic club, with swimming pool, in the nearby Target Centre for a daily fee. Wireless high-speed Internet access is available in public areas and there is a full concierge service.
Accomodations
Each of our lodging accommodations at our boutique Minneapolis hotel features high technology and high fashion with Graves 601's exciting new design that include backlit photographs inspired by local culture, glass-etched, handcrafted headboards, wall-mounted, 42-inch plasma screen television with in-room entertainment system providing music, video and hotel information on demand.
High-speed Internet access, supplied via plasma screen or plug-and-play wall jack, specially designed beds providing the ultimate sleep experience and featuring high quality white cotton duvets and crisp linens. The bathrooms feature freestanding shower rooms with rain shower, etched glass wash basins on limestone tables and specially commissioned amenities include luxury toiletries and an exclusive, 50-gram bar of Hermes soap.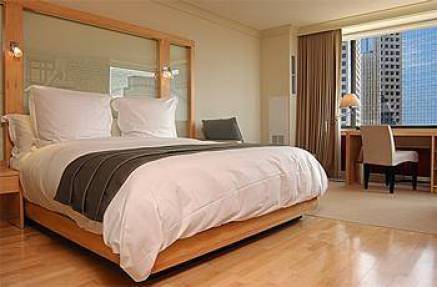 Dining
Cosmos is the hotel's restaurant and lounge serving contemporary cuisine with particular emphasis on fish dishes. The décor is a striking mix of bold colour and modern design with subtle lighting and comfortable seating, ideal both for intimate dining or a business meeting. The Infinity Room cocktail bar at street level is open to the public Thursday to Saturday with a resident DJ, making it a trendy nightspot for guests and locals alike.
Bradstreet crafts house restaurant
In a captivating and modern rendition of pre-prohibition era grandeur, Bradstreet Craftshouse delights diners with innovative plates, ideal for sharing, and classic mixology cocktails and specialty drinks made from artesian ingredients, hand-pressed juices & house-made bitters.
This intimate destination, located on the first floor of the Graves 601 Hotel, expertly melds the beautiful and the eclectic to offer a delightful experience of modern exoticism.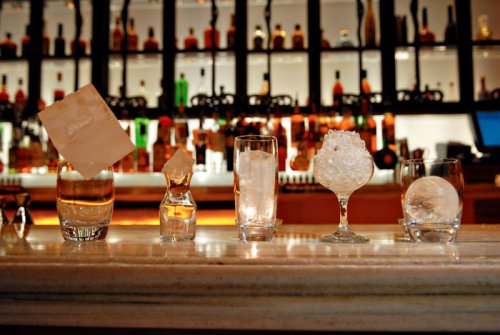 Things to do
Minneapolis has plenty to offer and an abundance of shopping opportunities including the largest covered shopping mall in the world. The city boasts more theatre seats per capita than any other American city and major Broadway shows often preview here. The great Mississippi River is an integral part of the city's life, beautifully maintained pleasure steamers run cruises along the river and the historic 100-year-old stone arch bridge crosses the river to St. Anthony Main.
Numerous lakes surround the city providing plenty of leisure opportunities including sailing and fishing in the spring and summer and ice-skating in the winter months. Minneapolis' fashionable bars and restaurants are to be found in the warehouse district and the newly refurbished river front area.
Loews Minneapolis Hotel
Address: 601 1st Ave N, Minneapolis, MN 55403
Phone:(612) 677-1100
http://www.loewshotels.com/en/Minneapolis-Hotel