Grand Rapid, Michigan has famous and luxurious hotels around the world. It is where most business meetings are held. Two of the favorite venues are the Amway Grand Plaza Hotel and Crown Plaza.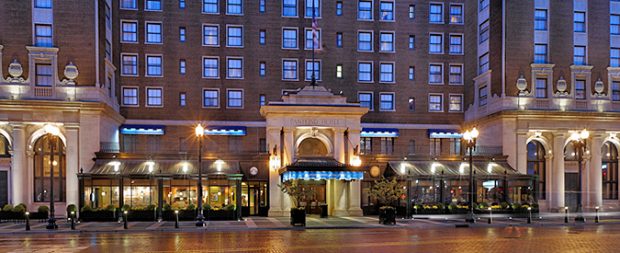 Grand Rapid is the second largest city in Michigan with over 197,800 populations according to the census as of the year 2010. The city becomes more popular because of its wide range establishments that suit the requirements of their citizens. Grand Rapid also houses many nearby government agencies, some of the biggest corporations, entertainment establishments and other commercial sites.
There are many luxurious and elegant hotels that sprouted one by one to accommodate the needs of visitors of Grand Rapid. One of the most highly regarded hotels here is the Amway Grand Plaza Hotel.
Amway Grand Plaza Hotel Grand Rapids
Located in Monroe North West Michigan, Amway Grand Plaza was founded in the year 1913. It was previously known as the Pantlind Hotel, after a long year of renovation and added 29 more story towers it was reopened in 1981 and use its new name Amway Grand Plaza.
It is adjacent to Ford, Gerald International Airport and was rated as the most luxurious hotel in the city, featuring some of the award winning restaurants and bars that cater and serves great and superb international menus, best-tasting wines and wide range classic and extra ordinary cigarettes.
Amway Grand Plaza houses fabulous and well decorated 682 rooms including 40 traditional and historical designed suites. All rooms are well organized and ventilated, decorated and accentuated with branded and originally handcrafted furniture and fixtures. All rooms have its sliding glass windows to overview the fascinating nightlife outside the hotel.
Guestrooms come with complete amenities like the grand bed that big and very comfortable with 250 thread count sheets, down pillows, pillow-top mattresses, sofa bed, branded slippers, lavishing bathroom products, safe box, flat screen TV with available movies and games, complimentary uninterrupted and high speed internet connection, spacious working table and chair, iron and board, hair dryer and make-up mirror.
Amway Grand Plaza understands the needs of every traveler. They put up their own luxurious and latest facilities in housing cardio and fitness center, gift shops and boutiques, flower shops, tanning and individual locker facilities, premium cocktail lounges, in door heated pool, hot tub and superb sauna and spa center.
It also conveniently set up a notary service. It is organizing walking tours in some of its historic places for the guests. There is a turndown service for business travel and leisure guests, 24-hour on-site security, and electronic locks for added protection.
Amway Grand Plaza also houses award winning restaurants. The 1931 Room, Michigans only and finest Five Diamond Restaurants, is seven times ranked number one in the vicinity. On 2000 it became the Restaurant of the Decade. On the other hand, another restaurant, Cygnus 27, brings a rhythmic and dynamic ambiance. They serve exquisite dishes prepared by its famous chef Werner Absenger.
Crowne Plaza Grand Rapids Hotels
Another fine and fabulous luxury hotel in Grand Rapid Michigan is this Crowne Plaza located near DeVos Convention Center and Gerald R. Ford International Airport, River town Crossing Mall and Woodland Mall, ideal location for business and leisure. This hotel is exceptional for its fine dining and recreational features and facilities.
Crowne Plaza has a total of 320 completely equipped guestrooms and suites with first class beddings and mattresses, pillows and pillow tops, sofa bed, bathrobes and towels, complete toiletries, hair dyers, safe box, working desk with chairs, coffee maker, TV and CD players, cabled and satellite channels, telephone lines with voice mail, data port, and fast internet connection.
It also has to the guest's convenience a fitness center, gymnasium, business center, meeting rooms, faxing facilities, conference facilities, handicapped facilities, family rooms, smoke-free rooms, restaurant, swimming pool, Jacuzzi, and spa services.