Mardi Gras would be heaven without the multitudes of half-lit partygoers, but it also wouldn't be Mardi Gras. Those who subscribe to the old maxim that 'Hell is other people', should stay far, far away. Celebrated by those of the 'laissez les bons temps roulez' ('let the good times roll') mentality, Mardi Gras is America's biggest, liveliest and most show-stopping party.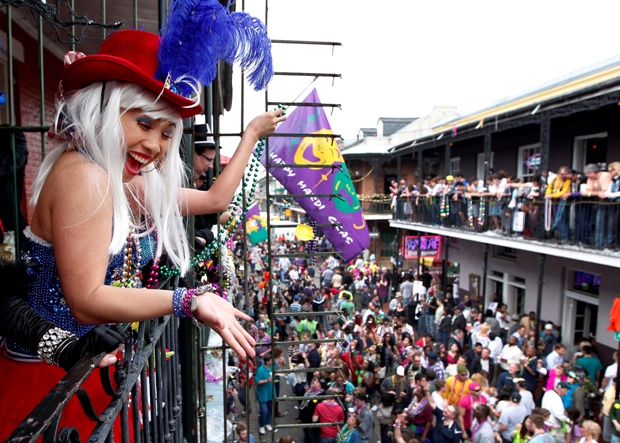 Just six months after Hurricane Katrina struck the city, Mardi Gras 2006 drew smaller crowds than in previous years, but its success still provided a raucous, heartfelt confirmation that New Orleans had every intention of bouncing back as a seminal tourist destination. This is The Big Easy's party, and the world, now more than ever, is invited.
Months before the late-winter festival, intense preparations begin with the creation of elaborate two- and three-storey floats and costumes to match, reaching a crescendo with a rhythmic marching-band beat during the 12-day lead-up to Mardi Gras itself. (Mardi Gras, which means 'Fat Tuesday' or Shrove Tuesday, is the day before Ash Wednesday; it generally falls in February and ushers in the 40 days of the sombre Catholic period of Lent that leads up to Easter.)
This is New Orleans's exuberant feast before the famine, a dizzy intertwining of its centuries-old Caribbean and European cultural roots, as much a commercial show to reap tourism dollars as a revered local tradition. Arrive early to stake out a spot along the parade routes of St. Charles Avenue and Canal Street, amid a sea of 'carnivalistas' chanting "Throw me something, mister!", demanding the plastic doubloons and cups, trinkets and coveted necklaces that are tossed by float-borne revellers. In its pre-Katrina heyday, during the height of Mardi Gras season, New Orleans was covered with more than three million plastic cups, another three million strands of beads and more than 20 million doubloons.
Of the many parades that begin in earnest two weeks prior to Fat Tuesday, the biggest and best, featuring the famous floats, take place day and night beginning the previous Thursday. King cakes, tasty confections iced in the colours of Mardi Gras, fill bakery windows throughout the city, and restaurants and music clubs are open into the wee hours.