Among the various barbecue capitals in America, Memphis stands out. Unlike in Texas, which is all about beef, BBQ in Memphis means pork, and it comes in two versions: pulled shoulder pork and ribs served either 'wet' (with sauce) or 'dry' (with a rub of spices and herbs instead).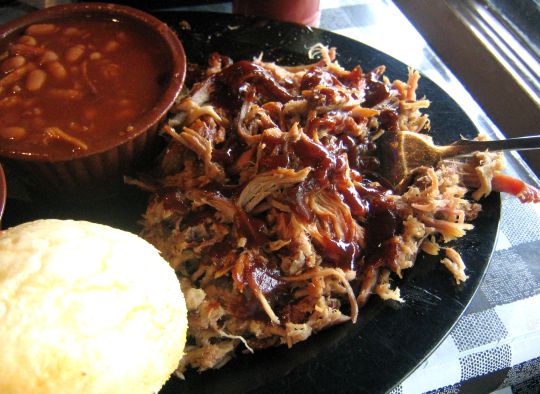 More than a hundred barbecue joints clog Memphis, some so famous that they've expanded to other cities, while others have retained their quiet, local vibe. In business since 1948, and claiming to serve 10,000 meals a day, the Rendezvous lies in a busy cellar down an alley near the grand Peabody Hotel, known for the trained ducks that waddle through its lobby twice daily to the music of John Philip Sousa.
For the full Rendezvous experience, order the dry charcoal-broiled ribs, red beans and rice, and a pitcher of beer. The other big Memphis name for dry ribs is Corky's Bar-B-Q, with multiple locations, a string of franchises across the country and a long list of favourite dishes, headed by its succulent sandwiches.
On the more basic side of things is Payne's, housed in an old filling station near Graceland LINK TK and serving one of the most legendary chopped pork sandwiches in town, on white bread with coleslaw and hot sauce. At another great casual joint, the paper-plate-style Cozy Corner, specialties are BBQ Cornish game hens, pork shoulder sandwiches with sauce and coleslaw, pork loin and surprisingly tasty BBQ baloney sandwiches. Central BBQ, a relative newcomer, has developed a following for meaty ribs (both dry and wet) and home-made potato chips.
At the beloved Jim Neely's Interstate Bar-B-Que, wet ribs are slathered with a thick, sweet-and-tangy basting sauce—the same sauce that also flavours the curiously delicious house specialty, barbecued spaghetti. This town even figured out how to barbecue pizza. Coletta's Italian Restaurant, open since 1923, is this category's self-proclaimed winner.
For all-around barbecue nirvana, show up at the cutthroat World Championship Barbecue Cooking Contest, part of the city's annual Memphis in May bash. More than 300 teams from around the world congregate to grill on the waterfront, using their own secret recipes.