Mystic is one of the Northeast's most visited villages, primarily because of Mystic Seaport—the Museum of America and the Sea. America's leading maritime museum, it houses the world's largest collection of historic boats and ships.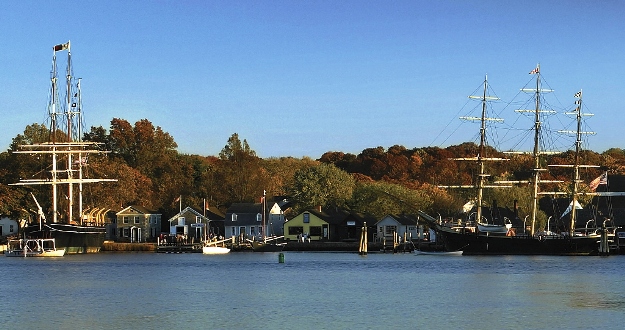 Much of its 17-acre riverfront site encompasses a re-created coastal village complete with a schoolhouse, church and dozens of homes, stores and workshops that bring salty 19th-century maritime America to life. A number of fully rigged sailing ships docked here are open for visits, among them the Charles W. Morgan (1841), America's last surviving wooden whaling ship (complete with 'blubber room'). The Seaport's most ambitious exhibit, 'Voyages: Stories of America and the Sea', examines our nation's connection to its oceans, rivers and lakes. The area's other major draw, the children-friendly Mystic Aquarium and Institute for Exploration, offers some 40 live exhibits of sea life, including more than 4,000 specimens and one of the world's largest beluga whale exhibits.
Take to the gentle nearby hills for sweeping harbour views, and follow privacy-seeking Lauren Bacall and Humphrey Bogart to the Inn at Mystic. The couple honeymooned here in a secluded cottage behind the main building, a regal 1904 Colonial Revival mansion. A newer annex has increased the number of rooms, but romantics should hold out for the more atmospheric original main house.
Meander just five miles east to visit the little-known Borough of Stonington, the state's easternmost coastal community and one of New England's most endearing. First settled in 1649, this former whaling and shipbuilding centre looks today much as it might have a century ago, its leafy streets lined with sea captains' homes and churches. Follow the smell of the sea down the main thoroughfare, Water Street, which ends at a small beach and an early 19th-century lighthouse. Stonington has a handful of low-key restaurants serving outstanding food, including the tiny, chef-owned Noah's, a cosy spot known for addictive sweet rolls at breakfast, homemade clam chowder at lunch and char-grilled salmon with lemon-dill butter at dinner.
At the very least, spend one idyllic night at the posh Inn at Stonington, overlooking the lovely harbour. For such a small town, this is worldly luxury; several of the 18 rooms have private decks overlooking the water. They're all housed in two new buildings constructed in the classic Greek Revival style.