Napa Valley, in the Bay Area in California, is the main wine growing region of the United States of America and one of the major wine regions of the world. It is also known for its gourmet restaurants, cafes, and spa-treatment centers.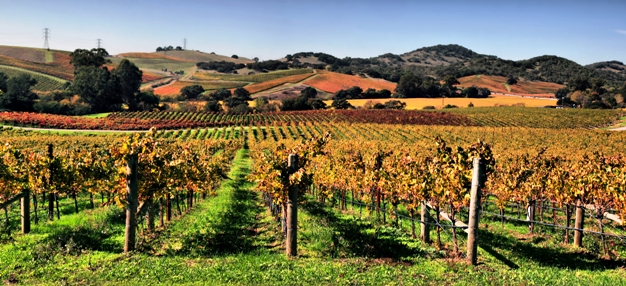 Napa Valley, a world famous wine area, is one of the most popular tourist attractions in California. More than five million visitors come each year, often overcrowding the roadways on summer weekends. Peak times are the summer months and the harvest "crush" during September and October. Napa Valley is home to more than two hundred wineries. With wine as a focus, great dining naturally emerged to compliment it. The CulinaryInstitute of America at Greystone in St. Helena supplies a steady stream of well-trained chefs, supplementing the already prestigious chefs drawn by Napa Valley's reputation and locale.
Napa is warmer in the summer than Sonoma County to the west or Santa Barbara County, a wine-producing county in southern California. Thus, the Napa wineries favor varietals such as Cabernet Sauvignon, while Pinot Noir and Chardonnay are more the specialty of Sonoma wineries and Santa Barbara wineries. At the north end of Napa County, in the Mayacamas Mountains, lies Mount Saint Helena, the Bay Area's second tallest peak at 4,344 feet (1,323 m) and home to Robert Louis Stevenson State Park. At the west side of the Napa Valley is Hood Mountain, elevation 2,750 feet (838 m).
Napa County is home to a variety of flora and fauna including numerous rare and endangered species such as Tiburon Indian paintbrush and Contra Costa goldfields.
WINE IN NAPA VALLEY
Napa Valley is widely considered one of the top American Viticultural Areas in California, and all of the United States, with a history dating back to the early nineteenth century. By the end of the nineteenth century there were more than one hundred and forty wineries in the area. Of those original wineries several still exist in the valley today including Charles Krug Winery, Shramsburg, Chateau Montelena and Beringer. Viticulture in Napa suffered a setback when prohibition was enacted across the country in 1920.
Furthering the damage was an infestation of the phylloxera root louse which killed many of the vines through the valley. These two events caused many wineries to shut down and stalled the growth of the wine industry in Napa County for years. Following the Second World War, the wine industry in Napa began to thrive again.
In addition to large scale wineries, Napa Valley's boutique wineries produce some of the world's best wines. The producers of these wines include but are not limited to: Araujo, Bryant Family, Colgin Cellars, Dalla Valle Maya, Diamond Creek, Dominus Estate, Duckhorn Vineyards, Dunn Howell Mountain, Grace Family, Harlan Estate, Husic, Kistler, Jericho Canyon Vineyards, Marcassin, Screaming Eagle, Shafer Hillside Select, Sine Qua Non, Spencer-Roloson Winery and Vineyard 29.
Today Napa Valley features more than three hundred wineries and grows many different grape varieties including Cabernet Sauvignon, Chardonnay, Merlot, Zinfandel, and other popular varietals. Napa Valley is visited by as many as five million people each year.