Niagara USA and Niagara Falls Fun Facts:
No matter when you visit, there are always plenty of things to do in Niagara Falls.   Enjoy the beautiful Niagara Falls and have an experience that will last a lifetime.  Niagara USA is not only home to the Falls but it is a place rich in history, culture, outdoor life, shopping, adventure and agriculture. There are hundreds of attractions and things to do in Niagara Falls year-round.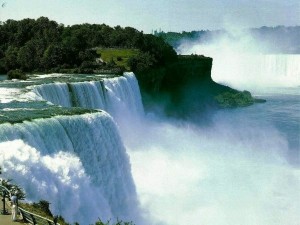 Summertime in Niagara USA is packed with free outdoor concerts, festivals and events to keep you entertained. There are also many events and festivals in the fall and winter months that feature wine, food, and music.   Enjoy the Niagara Falls State Park at anytime of the year and experience over 400 acres of protected wildlife and lush landscape.  The whole family will love the Niagara USA experience that offers historical and exciting adventures and tours.
The beauty of Niagara Falls is difficult to replicate, but it's the diverse region that makes Niagara USA so unique. With so many affordable things to do for visitors, especially families, it's no wonder Niagara Falls attracts more than eight million visitors each year.
Niagara falls fun facts
Niagara Falls is comprised of three waterfalls: American Falls, Bridal Veil Falls and Horseshoe Falls.
• The American and Bridal Veil Falls were turned off in 1969 by the U.S. Army Corps. of Engineers to study the effects of erosion.
• The water that flows over the Falls is at 25-50% capacity at any given time.
• The first person to go over the Falls in a barrel was 63-year-old school teacher Annie Edson Taylor.
• The Cave of the Winds attraction at the Falls is torn down and re-built every year.
• Niagara Falls State Park is the oldest State Park in the United States.
• At one time, P.T. Barnum wanted to turn Goat Island (inside Niagara Falls State Park) into a circus ground.
Categories: Abacos, New York, Niagara Falls, USA
Tags: New York, NIagara Falls, Romantic getaways, sightseeing, travel