Ever since Hawaiians revived the ancient practice of surfing a century ago, and especially after Duke Kahanamoku—Olympic gold-medal swimmer and the original 'Big Kahuna'—popularised it from Australia to California, riding the waves has been the quintessential Hawaiian sport. For surfers and spectators alike, there's no place like the six-mile stretch of Oahu's North Shore from Hale'iwa to Sunset Beach, where in winter, monster swells from Pacific storms rush unimpeded towards breaks in the reefs.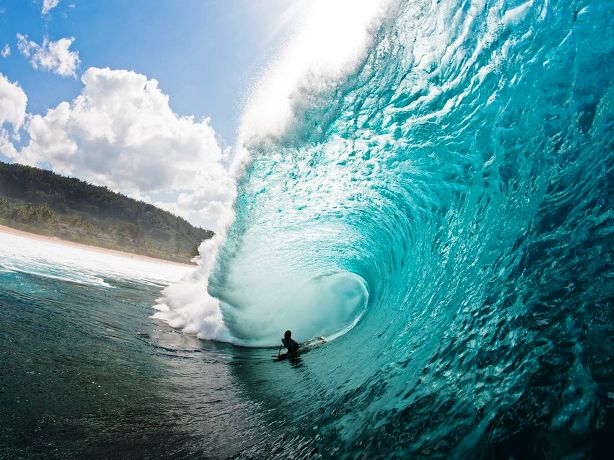 This area of deserted beaches, rugged cliffs and lush vegetation becomes a scene of death-defying, thrilling rides, as elite surfers come to test themselves against waves towering four to six storeys high. Cars, from basic rentals to shiny BMWs to rusty pickup trucks and SUVs crammed with children, line up bumper-to-bumper along the road to Waimea Bay, Sunset and the fabled Banzai Pipeline off Ehukai Beach Park, taking throngs to see nature at its wildest.
Only the very best surfers even attempt to enter the water when the big waves come, and those who manage to ride these gargantuan swells appear as fragile thumbnail figures on a raging backdrop. When the waves break and collapse, the ground actually shakes as if in an earthquake, and the air is filled with the roar.
It's hard to believe that during the summer months, from April to October, these same tumultuous waters settle to a flat calm, inviting swimmers, kayakers, snorkellers, divers and fishermen to come out to play. Hale'iwa, officially designated a historic, cultural and scenic district, thrives in a time warp going back to 1899, when sugarcane king Benjamin Dillingham built a 30-mile railroad to link his Honolulu and North Shore plantations.
Dillingham also opened a Victorian hotel overlooking Kaiaka Bay and named it Hale'iwa, or 'house of the frigate bird', the tropical seabird often seen here. The hotel and railway are both gone, but Hale'iwa still draws visitors with its blend of quirky old town and upscale boutiques. There's also a busy fishing harbour full of charter boats whose captains hunt the Kauai Channel daily for tuna, mahi-mahi and marlin.
The local tradition for a trip to the North Shore includes stopping at one of the shrimp trucks, located around Hale'iwa or Kahuku on the Kamehameha Highway, selling farm-raised North Shore shrimp. The menu usually offers shrimp prepared spicy, garlic, Cajun, coconut, buttered, lemon or just plain, and most trucks have picnic tables alongside. Giovanni's Shrimp Truck claims to have been the first truck to serve the delicious fare, but Kahuku Famous Shrimp has a more extensive shrimp menu plus squid, shrimp and steak, and shrimp and vegetable stir-fry. The trucks generally show up before noon and stay until about sunset, when the last surfers head home.