I. M. Pei admitted to knowing little about the music in question when he was chosen to design Cleveland's Rock and Roll Hall of Fame on the shores of Lake Erie. After a bit of remedial listening, he set out to create a building that would embody rock's brash dynamism, and came up with a seven-storey set of architectural power chords, incorporating several of his signature elements: cantilevered spaces, angular masses clad in stark white tile and a vast, pyramid-like glass atrium.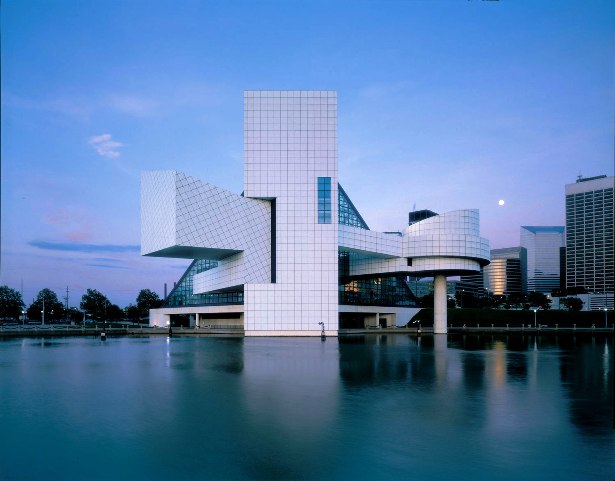 It is the ideal home for the living heritage of rock and a bold showcase for a music genre that continues to impact our global culture—and a visit here guarantees a pretty entertaining afternoon as well.
Exhibits and interactive hands-on displays, many with sound and thought-provoking videos and films, pay tribute to the music, and the people behind it: performers, songwriters, disc jockeys, producers and others.
The permanent collection contains more than 100,000 artifacts in dizzying variety—thousands of instruments and stage costumes from the likes of Jimi Hendrix and Iggy Pop, naturally, but also many less obvious items from quirky to poignant, such as Jim Morrison's Cub Scout uniform and Elvis Presley's draft card. Janis Joplin's 1965 Porsche and ZZ Top's 1934 Ford coupe, the Eliminator, are on display, and there are even school report cards for John Lennon, James Taylor, the Everly Brothers and legendary drummer Keith Moon of The Who ('shows promise in music').
Cleveland is hardly the hub of the music industry, and indeed the hall's highest-profile event, the annual induction ceremony, usually takes place in New York. But it's rich in rock history; it was in Cleveland that radio disc jockey Alan Freed, who is credited with coining the term 'rock and roll', broke racial boundaries with his broadcasts and put on the country's first rock concert, the original Moondog Coronation Ball, in 1952. By the time the Hall of Fame opened in 1995, it had become a catalyst for the renewal of a downtown area that had been a famous example of urban decline.
It symbolises not just the energy of rock and roll, but the energy of the new Cleveland as well. Ohio claims a 'Hall of Fame Corridor', and this is its northern cap: the National Inventors' Hall of Fame can be found in Akron and the hugely popular Pro Football Hall of Fame in Canton.