Santa Barbara beyond the break

Checking out new trends flooding the American Riviera
Long known for its gated estates, high-life hotels, "The Endless Summer" surf scene, and vine-covered hills, Santa Barbara quietly and confidently is adding another notch to its belt: Cultural curators, style-savvy experts who are taking the best of the seaside town and personifying it, California-style.

It's not that the American Riviera (as some call it) is losing its dolce vita. It's just that a swell of creativity and cool has washed ashore, leaving a new wave of restaurants marrying local fare with international trends, hotels cultivating a new take on hospitality, and wineries eager to cross from terroir to tasting room to share their grapes.
I first noticed this trend at Santa Barbara Public Market, a circa-2012, blinding-white building budding with local-hero shops and an urban sensibility. Stacked between long-established restaurants and historic buildings, the space is as if a farmers' market coupled up with a modern loft.
Brimming with handcrafted goods and pantry essentials, the Market is as much a grab-and-go locale as it is a sit-down-and-eat space sporting an edited collection of kitchens and bar-style stools. While my palate started doing a triple salchow in excitement over local purveyors such as Rori's Artisanal Creamery and Empty Bowl Gourmet Noodle Bar, I started with brew from Green Star Coffee, and a chocolate-dipped sandwich cookie from Enjoy Cupcakes.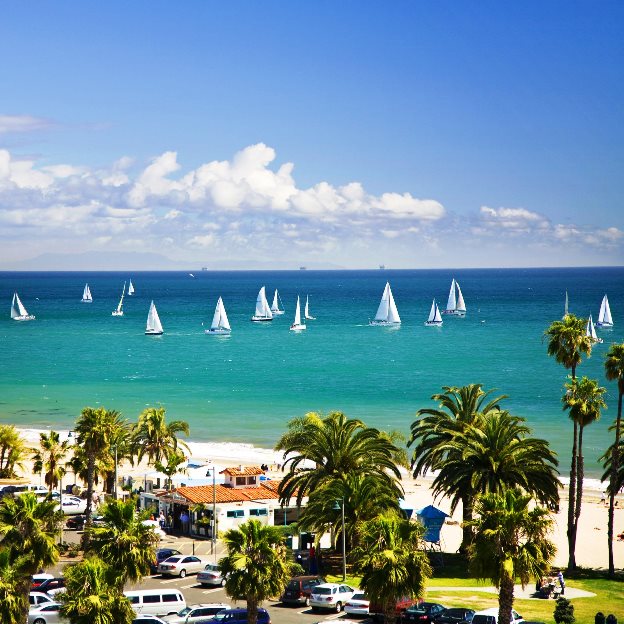 (Note to self: Move to Santa Barbara, eat at the Market daily, and surf a lot to keep my calorie count in check.)
Another assault on my caloric intake was the 11 wineries dotting Santa Barbara's Urban Wine Trail. Hanging between surf shops and the shoreline—how Californian—the tasting rooms collectively are as much an ode to the surrounding hills' famed chardonnay and pinot noir as they are a gorgeous collection of gathering spaces.
Categories: Abacos, California, Santa Barbara, USA
Tags: Beach Vacation, California, etraveltrips, Family vacations, Goleta, Refugio State Beach, Romantic getaways, Santa Barbara, Santa Barbara County, travel, United States Coast Guard