With more than half the island a national park, St. John puts the 'virgin' back in Virgin Islands. More than 18,000 acres of coral seascapes are protected when you include the Virgin Islands Coral Reef National Monument. With 20 hiking trails wending through 7,000 tropical acres, and blissfully free of casinos or cabana boys, the 19-square-mile island is reachable only by ferry, appealing to travelers who care more about a star-studded night sky than five-star hotels.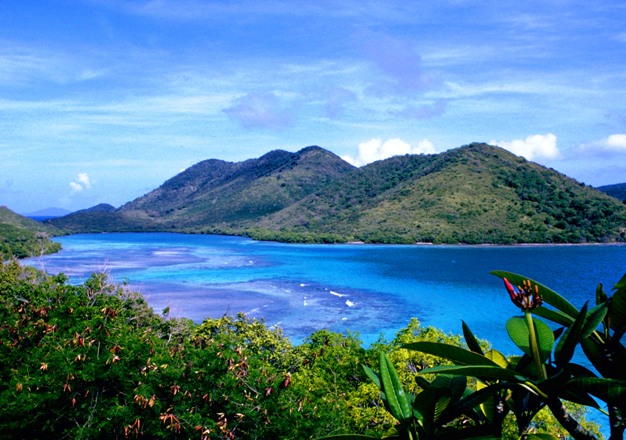 This pristine landscape exists thanks to the foresight of wealthy conservationist Laurance Rockefeller, who bought up much of the island and then gave it away. While sailing in 1952, he spotted Caneel Bay, a 170-acre peninsula with seven stunning beaches, snapped it up and built an estate. To protect the island he loved, he added it to his holdings and in 1956 handed over the deeds to 5,000 acres of sugary-white coves, teal-blue bays and shady mountains to the federal government.
Trunk Bay is the showstopper of this extraordinary tropical estate, a picture-perfect, quarter-mile-long beach considered one of the world's most beautiful. It is famous for a 670-foot snorkelling trail with labelled underwater features, the perfect snorkelling debut for kids and other novices. Snorkelling snobs head for Haulover Bay and Leinster Bay, dramatic sites that are inaccessible from shore.
Above ground, the Reef Bay Trail is one of the park's most popular (and frequented). It's all downhill, beginning at 800 feet above sea level and winding past spectacular views, ancient petroglyphs and the ruins of 18th-century Danish plantation houses before ending about three hours later on the southern shore.
Rockefeller's estate became the 'it' resort with the wealthy in the '60s, and Caneel Bay is still the island's most luxurious place to stay. Today, the Rosewood resort has expanded to 166 airy, spacious rooms and claims the island's most romantic dining at the Equator, which sits on top of the 18th-century sugar-mill ruins. The Self Centre's focus is on wellness, with offerings that include sound healing and guided stargazing.
The work of ecotourism pioneer Stanley Selengut, Maho Bay Camps and sister property Estate Concordia Preserve are set in the midst of St. John's verdant national parkland, providing easy access to both the beach and hiking trails. Maho Bay Camps' hand-constructed tent-cottages are linked by wooden walkways so as not to disturb the natural environment. They lack some amenities (private bathrooms), but the 114 tents tucked among the foliage all have their own decks, screened windows, electricity and cooking facilities.
Just up the hill are 12 Harmony Studios, which combine sustainability with creature comforts. Experiencing Maho Bay Camps' pristine parkland and its white-beached cove, guests may feel like privileged interlopers in paradise. Half an hour away at Estate Concordia Preserve, the 25 'eco-tents' are bigger, more substantial and have bathrooms, while 13 spacious studios are built around a freshwater pool.
Don't leave the island without a stop at Woody's Seafood Saloon in Cruz Bay, known for its conch fritters and Bushwackers, potent milk shakes made with Cruzan light rum, Baileys, Kahlua, amaretto, vodka and cream of coconut, blended with ice and sprinkled with fragrant nutmeg.