Even if one goes to Vegas only to gamble and be entertained, one mustn't ignore the local shops! As a top tourist destination, the shops are designed to cater to a broad range of people, and retailers have made it easy to amuse oneself with the plethora of unique goods. Certainly there are upscale shops, just as there are places that specialize in the unusual and even the highly unusual. Who knows, you might just run into a celebrity or two, even if shopping isn't as fascinating for you as playing the slot machines.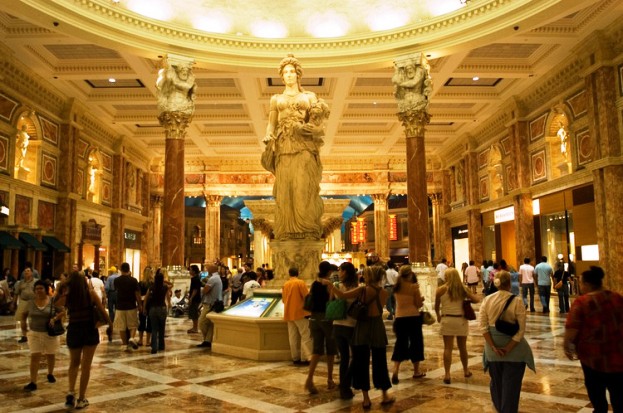 First, in the "Only in Vegas" category is Bonanza Gift Shop. Among the 40,000 square feet of retail space at Bonanza, there is every kind of Las Vegas souvenir anyone could possibly conceive of. If it's tacky, they have it. If it's rude, they have it. Ranked by Fodor's, Bonanza is considered to be the best mega-souvenir store in the city. It isn't hard to spot, as the address is right on the Las Vegas Strip between the Sahara and the Stratosphere. Among famous locales in Las Vegas, the Bonaza Gift Shop fits the bill.
The shops at the Palazzo, are at the pinnacle for the luxury set. Secreted away within the walls of the luxury Palazzo resort ( and gaming dream), are some of the finest boutiques on the famous strip. Let's begin with the largest, an 85,000 square foot Barneys New York. Barney's is surrounded by Ralph Lauren, Cole Haan, Bottega Veneta, Piaget, Burberry, Jimmy Choo and many others that would appeal to the Onassis crowd! But just one more, the Palazzo also houses one of two Lamborghini show rooms.
While on the topic of high end shopping, let's head over to The Forum Shops at Caesars. If selection is of prime importance in choice of shopping mecca, Caesars Palace Resort houses an incredible 160 haute couture shops and eleven premier restaurants. Caesars it the place to loiter if your aim is to do a little celebrity watching while shopping. Even the decor is ultra-high end, with spiral staircases, gold leaf and intricate details. Of those haute couture boutiques, Dolce & Gabbana are present, as well as Calvin Klein, Valentino, Balenciaga, Ted Baker and of course Emporio Armani.
These are only three examples of shopping that cannot be compared to the malls and shops back home. Knowing what the rich are paying for their undergarments and workout wear, is (of course) of interest, to those of us that haven't the means (or intention) of spending?
It doesn't cost anything to look!