San Francisco can prove to be a compelling lure when it comes to attracting visitors from around the world. First-class hotels, a compact and walk able downtown, superb restaurants, famous landmarks, world-class arts and cultural attractions, scenic topography, a mild climate and cosmopolitan flair. But you need to take a closer look to really experience San Francisco. Here's a few diversions to pursue before or after your meeting in San Francisco: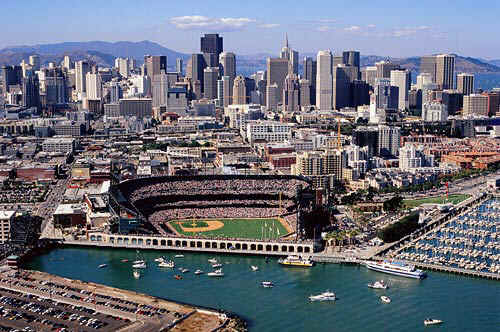 1. Sample Some Food "Firsts"
The culinary geography of San Francisco is especially fun to explore. Dubbed "the city that knows chow," San Francisco is known for some of the best restaurants in the world. Whether you order saltimbocca, tempura, chow fun, chile rellenos or the unique blends of fusion cuisines, be sure to give your taste buds a workout. And San Francisco claims many "food firsts." It is here that in 1849 sourdough French bread first rose to the occasion.
The Martini came along in 1860, and such local favorites as cioppino, chicken Tetrazzini, crab Louis, Green Goddess salad and some other fine, bad things: Irish coffee and the mai tai (Tahitian for "out of this world").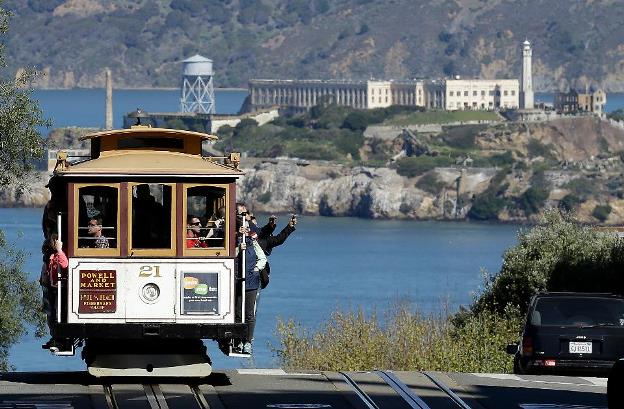 2. The Good Herb
Galvanized by the opening of the San Francisco Museum of Modern Art in 1995, Yerba Buena Gardens has matured into the "most concentrated arts district west of the Hudson," according to Newsweek. Moscone Center, the city's convention facility, is surrounded by these cultural treasures: galleries, museums, outdoor art and entertainment. Get your funny bone tickled at the Cartoon Art Museum or check out the latest offerings of the Yerba Buena Center for the Arts. May through October is also "high season" for the Yerba Buena Gardens Festival which offers more than 200 free artistic, cultural and community events.
And if you just feel like stretching your legs, there's ice skating and bowling nearby immediately opposite Zeum, "a wonderland of technology." If your interests are a little more traditional, visit the hand-carved carousel built in Rhode Island by Charles Looff in 1906, or stroll down the street to the California Historical Society or the Society of California Pioneers.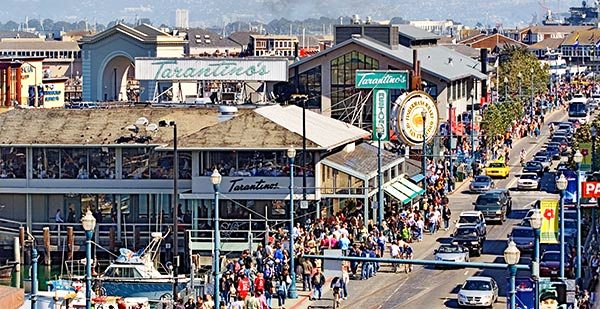 3. The Perfect Afternoon
For some small change, you can have a great time. Catch the F-line historic streetcar anywhere on Market Street ($1.50 exact change required). Disembark at the Ferry Building at the foot of Market and stroll through the food arcades. The scene is especially lively when the Ferry Plaza Farmer's Market is open; operating days and hours vary with season. Pull together a picnic and board a ferry bound for either Sausalito or Larkspur or the East Bay's Jack London Square in Oakland.

4. Park Lark
Golden Gate Park is one of the largest man-made parks in the world. Major attractions include the the de Young Museum, Conservatory of Flowers, Japanese Tea Garden, San Francisco Botanical Gardens and the Polo Fields.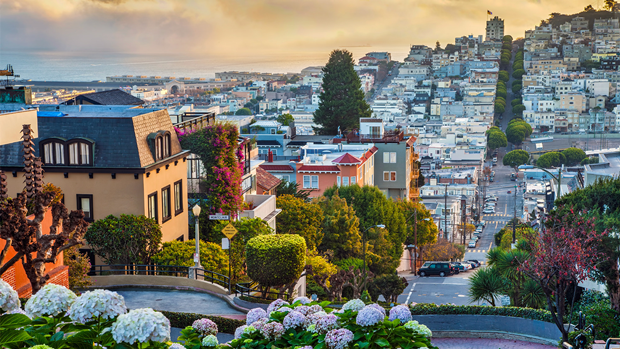 5. Wharf Wiles
Fisherman's Wharf remains one of San Francisco's most endearing tourist attractions. With a history dating back to the Gold Rush, the wharf still has its traditions and the grandsons and great-grandsons (and daughters) of some of the original owners of the fishing fleet still make their living at sea. "Newcomers" include Anchorage Square, The Cannery at Del Monte Square, Ghirardelli Square and Pier 39; these shopping enclaves have a high degree of entertainment value as well, ranging from the Aquarium of the Bay at Pier 39 to an array of street artists and performers.
San Francisco boasts one of the largest collections of historic ships by tonnage in the U.S. Stroll down Hyde Street Pier for a visual record of San Francisco's seafaring past or visit the Maritime Museum at the foot of Polk Street .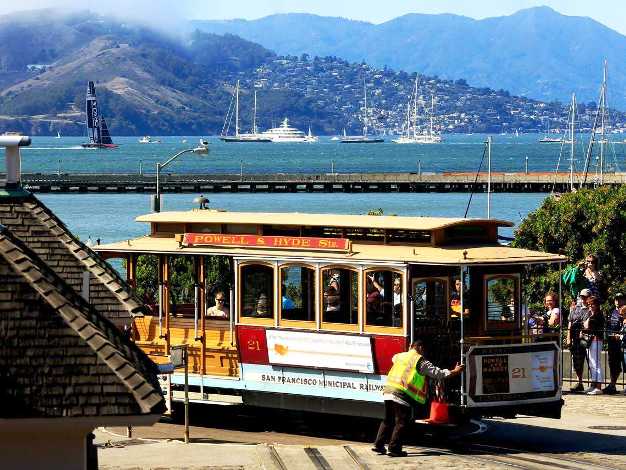 6. ABCs
All right … it's irresistible. Here's an A to Z list of some things to see and savor in San Francisco: Alcatraz, Baker Beach, Chinatown, Downtown, Embarcadero, Fort Point, Golden Gate Bridge, Hayes Valley, It's It, Japan town, Kung Pao Chicken, Lombard Street, Mission District, North Beach, Ocean Beach, Presidio, Quail (California state bird), Russian Hill, South of Market, Twin Peaks, Union Street, Victorians, West Portal, Xanadu-like views, Yerba Buena Gardens, Zoo.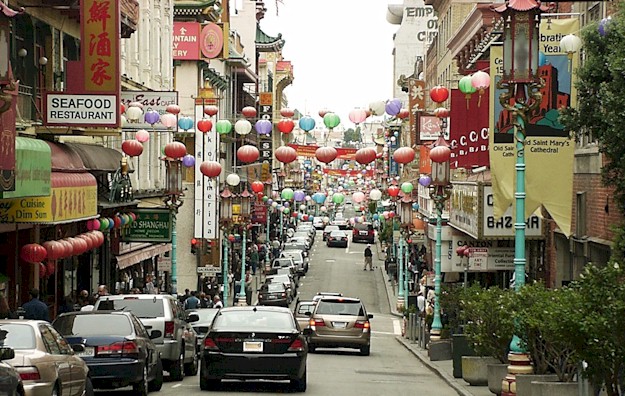 7. Bravo!
One of the most culturally dynamic and exciting cities in the United States, San Francisco is home to renowned ballet and opera companies, an internationally acclaimed symphony orchestra and an amazing array of museums. You will also find Broadway shows to cutting-edge theater, Mozart to hip-hop, poetry jams to jazz festivals, a wide variety of film festivals and a year-round calendar of parades that truly reflect the city's diverse cultural landscape.
8. Top Shops
One of San Francisco's most endearing attributes is its wealth of shopping options. Whether you fancy the full-service atmosphere of a department store or a unique boutique, San Francisco has it all. You can find everything from personalized fortune cookies to one-of-a-kind objets d'art — the 50 cent souvenir or the $15,000 Paris original. Union Square remains one of the most vibrant downtown retail districts in the world, and shopping in the neighborhoods provides the perfect excuse to combine sightseeing with some serious shopping.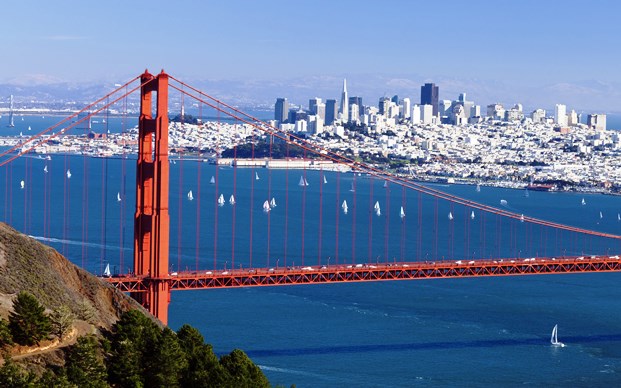 9. Kidding Around
While San Francisco's reputation as an adult playground is well deserved, it still holds enormous appeal for small fry. Thanks to a young-at-heart population, The City abounds with places tailor-made for a family vacation, too. Golden Gate Park is an oasis for outdoor enthusiasts and one full day rarely suffices to exhaust all the opportunities the park offers. Its 1,000+ acres encompass meadows, lakes, rose gardens, an arboretum, a children's playground and the de Young Museum. Nominal admission fees are charged at the Japanese Tea Garden and the carousel.
The San Francisco Zoo is a home to more than 1,000 animals and birds and downtown the rooftop at Moscone Center is endowed with an interactive museum, a carousel, bowling alley and ice skating rink. Located in the Palace of Fine Arts, The Exploratorium – Museum of Science, Art and Human Perception entertains the brain with more than 650 hand-on exhibits. And for a full day of escapism head for Six Flags Discovery Kingdom or Paramount's Great America.
10. Away … but not Far.
Headquarters of a vast vacation land, San Francisco is within easy driving distance of the high Sierra resorts of Lake Tahoe and Yosemite; the scenic Monterey-Carmel Peninsula; California's great wine bin in Napa and Sonoma; Marin County and Sausalito, and the spectacular Mendocino Coast. Visit the East Bay where Oakland's Jack London Square beckons. San Mateo County offers miles of unspoiled coastline and historic sites.