Once upon a time, the island of Manhattan and Brooklyn were two distinct cities, Manhattan a bustling commercial metropolis, Brooklyn a mostly rural place separated from its neighbour by the turbulent, mile-wide expanse of the East River. In 1855, John Roebling proposed a mighty suspension bridge whose roadway would soar 135 feet above the water, supported by steel cables anchored to two huge granite towers—a design that would leave boat traffic on the river unimpeded.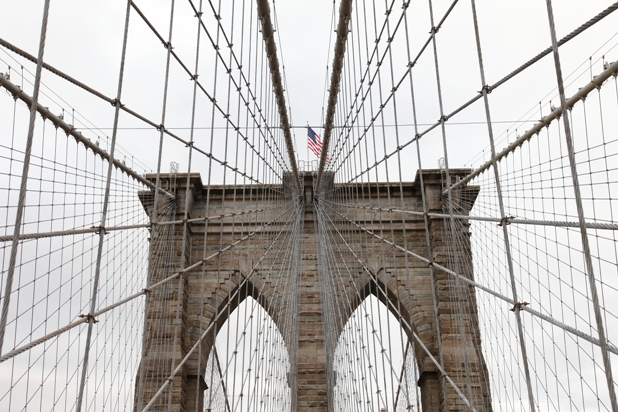 Approval, planning and construction took 16 years, during which John Roebling died and was succeeded by his son Washington, who was paralysed while directing construction, but continued to supervise work from his Brooklyn home while his wife, Emily, oversaw the engineers and builders on site. Work was finally completed in 1883, and the 'Great East River Bridge' was officially opened by President Chester Arthur and New York Governor Grover Cleveland.
From the start, New Yorkers knew it was special. An editor for Scientific American called it "a marvel of beauty … [with] a character of its own far above the drudgeries of the lower business levels". And so it remains today. In a city where two centuries of architectural styles (and lack thereof) wage a continual war against greed and the elements, the Brooklyn Bridge continues to soar gracefully above it all, a dignified, well-dressed visitor from another time.
Walking the bridge is a beloved experience for many New Yorkers, including joggers, lovers and commuting businessmen. Walk from the Brooklyn side towards Manhattan for the full effect, crossing the boardwalk-like central promenade between the iconic spider's web of the bridge's supporting steel cables.
First, though, spend some time in Brooklyn Heights, a colonial-era village that remains one of New York's loveliest neighbourhoods, with block after block of beautiful brownstone homes and even a few wood-frame houses—a rarity in this once very fire-prone city. The Brooklyn Heights Promenade, an overlook sitting on a rise above the East River, provides one of the city's grandest views, taking in the sweep of New York Harbor, the Statue of Liberty, the great lower Manhattan skyline and the bridge in all its serene majesty.
Right beneath the bridge's Brooklyn tower, the River Café offers probably the best restaurant view in all of New York. The cuisine is reliably good, but most people come for the candlelit tables, the Woody Allen-sound track piano music, and the cinematic views of Manhattan and the bridge lights shimmering off the East River. Next door, at Fulton Ferry Landing, Bargemusic presents intimate chamber music concerts year-round aboard a 103-foot former coffee-delivery barge, with seating for only 170 people. A large picture window behind the performers provides a stunning Manhattan view.
About three miles northeast, under the Williamsburg Bridge, Peter Luger is possibly the country's finest steakhouse, drawing happy carnivores to its tavern-like, old New York premises since 1887. Each perfect, butter-tender prime beef steak is hand-picked and dry-aged on-site, then prepared to perfection and served by amiable waiters who aren't half as gruff as the guidebooks claim.