One of the first of Newport, Rhode Island's great "Gilded Era" mansions is Chateau Sur Mer that was built in 1851 as a Villa for William Shepard Wetmore who had made his fortune in the China Trade. For several decades, it was the scene of Newport's most lavish parties and set the tone as the most palatial mansion in the area for four decades until the Vanderbilt houses in the 1890's.
William Wetmore was born in 1801. At the age of fourteen he was hired by the merchant ship "Fame" shipping out for England, South America and the East Indies. In 1823 he became stranded in Valparaiso, Chile and became employed by the trading firm of Richard Alsop of Middletown, Connecticut. This lead to a successful partnership that lasted for several years until retiring from the firm in 1829.
On the advice of his doctor who thought the move good for his health, he went to Canton, China in 1833 and established his own trading company, Wetmore & Company. His merchant house prospered despite the fact he took a stand against trading in opium in the years leading up to the Opium War – unlike many American merchants in the Cantonese trading zone that Chinese officials tried to keep isolated from the rest of their country to prevent the spread of corrupting western influences.
Wetmore's company became one of the largest trading houses in the Far East dealing primarily in tea, silks and spices. During his time in Asia he acquired a rich collection of Chinese antiques, porcelains and china. He returned to America and retired in Newport, Rhode Island where he bought 15 acres of hilltop property for his estate.
Built as an Italianate style house that was a style popular at the time from simple, rough hewn Fall River granite, Chateau-sur-Mer is one of America's finest examples of lavish Victorian architecture of the mid 19th century. Seth Bradford was the architect for the initial estate built between 1851-1852. featuring exquisite Italian woodwork, Egyptian and Japanese Revival stenciled wall papers, and Chinese porcelains. Located on the scenic hilltop, the original owners sold the water-front property below it where The Breakers and Newport's other "Gilded Era" mansions were later built.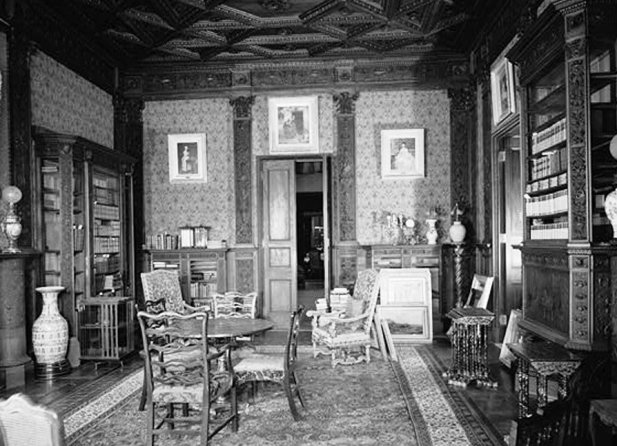 Wetmore furnished it with his collection of "strange and interesting" Chinese porcelain and lacquer furnishings from Asia that give the interiors so much of its rich opulence. Unlike many of the summer cottages that were beginning to be built in Newport in the 1850's, Chateau-sur-Mer was a mansion built as a year round home.
It was the scene of massive events, like the "Fete Champetre" in 1857 that was a huge country picnic for over two thousand guests. Three generations of the Wetmore family brought in the country's top architects and landscape designers to make Chateau-sur-Mer the most palatial mansion of its time in Newport.
William Wetmore's son, George Peabody Wetmore who would become Rhode Island's U.S. Senator inherited the mansion in 1862. In 1869 he married Edith Keteltas and commissioned architect Richard Morris Hunt to remodel the estate between 1870-1873 when he and his wife went on an extended European vacation. Hunt would make more additions from 1876-1880. He transformed the estate into a palatial Second Empire French chateau by adding a steeply pitched Mansard roof and ornate molded cornices and detailed copper creasting – introducing to America what would be major design trends in the latter half of the 19th century.
George Peabody Wetmore was active in Republican politics and had a distinguished career as Governor of Rhode Island and as a US Senator. He was deeply involved with the development of Narragansett Bay as a naval base.
The house was added to the National Register of Historic Places in 1968 and purchased by the Preservation Society of Newport County in 1969 which has recently completed a major, multi-million dollar restoration of Chateau-sur-Mer's roof, wallpapers, stencils and furnishings.
Located at 424 Bellevue Avenue, Newport, Rhode Island the Chateau-sur-Mer is open to the public with guided tours. As the first of the palatial estates that ushered in the "Gilded Era" mansions of Newport on its prime hilltop location makes Chateau Sur Mer one of Newport, Rhode Island's most important historic luxury homes.
Address
Chateau Sur Mer 474 Bellevue Avenue
Newport, RI 02840
Vist The Preservation Society of Newport County http://www.newportmansions.org/explore/chateau-sur-mer 

'