Literary fans come from around the world to visit the home of beloved author Samuel Clemens, aka Mark Twain, a pen name he derived from the term used by Mississippi River pilots to indicate a water depth of two fathoms. "To us," Twain said, "our house…had a heart, and a soul, and eyes to see us with…It was of us, and we were in its confidence, and lived in its grace and in the peace of its benediction."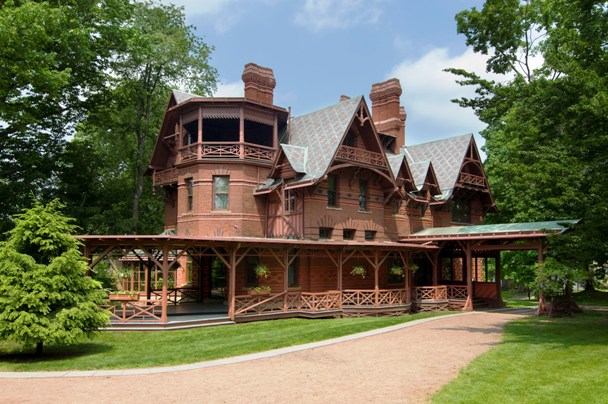 Although more commonly associated with his home town of Hannibal, Missouri, Twain always held this home in Hartford's Nook Farm section in special regard. The custom-designed High Victorian mansion was commissioned from well-known New York architect Edward Tuckerman Potter. Twain lived here with his family from 1874 to 1891, during which he penned some of his most acclaimed works, including The Adventures of Tom Sawyer, The Adventures of Huckleberry Finn and A Connecticut Yankee in King Arthur's Court.
The beautifully restored 19-room mansion features decorative work by Louis Comfort Tiffany and nearly 10,000 Victorian-era objects. Guided tours point out personal items, including the three-ton Paige typesetter, an ill-fated invention in which Twain invested, leading to his bankruptcy. A striking contemporary museum stands adjacent to the house, further detailing the life and times of this master storyteller—a key feature is a small theatre showing a 22-minute Ken Burns film biography.
Virtually across the street, the Harriet Beecher Stowe Center celebrates the legacy of the author of the greatest antislavery novel of all time, Uncle Tom's Cabin, considered to be the first international best seller. This compound is anchored by the brick Gothic Victorian 'cottage' (though substantial, it is not nearly as grand as neighbour Twain's) where the author resided from 1873 until she died in 1896. Guided tours provide insights into Stowe's abolitionist politics and then-revolutionary social views.
THE MARK TWAIN HOUSE & MUSEUM,
351 FARMINGTON AVENUE, HARTFORD, CT 06105
860-247-0998