Sculpted by the turbulent, pounding waves of the Pacific, Oregon's 362-mile coastline is one of nature's masterworks. Thanks to a far-sighted state government in the 1910s, the entire length of the coast in Oregon was set aside as public land, which has left most of it, especially in the central and southern regions, largely undeveloped.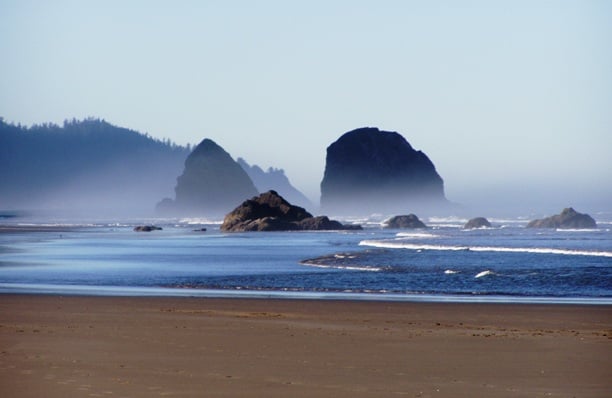 For one of the most awe-inspiring road trips in America, follow U.S. Route 101 and the western edge of the continent from north to south. Begin at the northern outpost of Astoria, the richly historic city where the Columbia River flows into the Pacific. At Cannon Beach, northern Oregon's most beautiful seaside village, sandy beaches stretch for miles, interrupted by massive basalt sea stacks such as the iconic 235-foot Haystack Rock. Route 101 stays close to the coast, traversing river valleys and climbing up over the flanks of mountains that reach down to the Pacific. The view from Neahkahnie Mountain, where the road edges around 700-foot cliffs that drop into the surging Pacific, is of wide-open seascape—on a clear day, you can see for 50 miles.
At Tillamook, home to dozens of dairies and the famed Tillamook Cheese Factory, the highway tucks inland, passing forests and dairy and artichoke farms, before rejoining the Pacific at Lincoln City, just north of Oregon's beloved Salishan Spa and Golf Resort.
Newport is the central Oregon coast's largest city, a hard-working seaport dominated by a high-arching bridge. The Oregon Coast Aquarium, once home to the orca Keiko (of Free Willy film fame) and one of the coast's top attractions, provides a fascinating glimpse into the northern Pacific's sea and intertidal life (a favourite resident is the octopus, with a 20-foot span). Or encounter Oregon's aquatic life in the wild—at Newport's harbour, join a whale-watching tour and journey out into the Pacific, where grey whales breach and spout as they pass between their winter and summer feeding grounds. About 20,000 pass by here each year, and when the numbers are dense, you don't even have to leave shore to watch. Newport's quirky Sylvia Beach Hotel (named after the American owner of the Shakespeare and Co. bookstore in Paris during the 1920s and '30s) is the coast's most unusual refuge—a hotel dedicated to book-lovers. Its 20 guest rooms are decorated to evoke the spirit and work of various authors, including Agatha Christie, Colette and Mark Twain. Even non-guests should book at the hotel's well-regarded Tables of Content restaurant and hope for the ubiquitous fresh oysters for which Newport is widely known.
Categories: Abacos, Oregon, USA
Tags: Adventure Travel, Beach Vacation, Oregon, Oregon Beaches, sightseeing