The Ritz-Carlton, Grand Cayman
The Ritz-Carlton, Grand Cayman, and experience a place where sparkling blue waters blend seamlessly with the sand and sky. Located on an archipelago of three picturesque islands, The Ritz-Carlton, Grand Cayman hotel offers a breathtaking location unlike anywhere else on earth. From the white sands of Seven Mile Beach to world-renowned restaurants, The Ritz-Carlton, Grand Cayman offers guests an unforgettable and luxurious escape.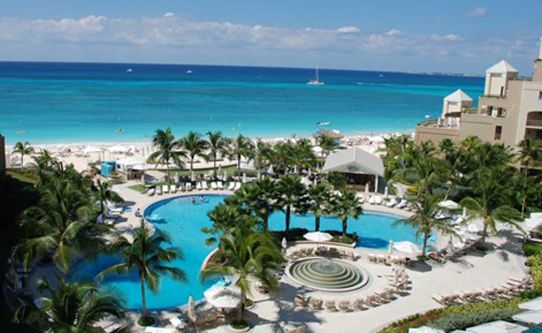 Guest rooms & suites
Guests at The Ritz-Carlton, Grand Cayman are reminded of the tropical latitude by design touches that give every room and suite a distinct sense of place. Special considerations such as loveseats that convert to single beds and double rooms with queen beds cater to families. Twenty-four Residential Suites feature one to three bedrooms with spacious living areas, chef's kitchens and dedicated concierge services.
Private balcony with ocean or resort view
Goose down and non-allergenic pillows
Feather duvets
Spacious marble bathrooms with separate shower and bathtub
In room high-speed and wireless Internet
Fully stocked refreshment bar with refrigerator
24-hour in-room dining
Twice daily housekeeping attention
All rooms are non-smoking
Dining
Caribbean cuisine to rival the offerings of any world capital. It's our pleasure. The world's most respected seafood chef, Eric Ripert, brings his passion and talent for celebrating the essential character and nature of fish to The Ritz-Carlton, Grand Cayman Islands restaurants. Prepare yourself for a culinary journey like no other from Ripert's seafood creations to the island's finest steaks to an opulent Sunday brunch, with an array of exceptional restaurants on Grand Cayman, The Ritz-Carlton raises indulgence to a new level.
Blue by Eric Ripert
Seafood menus inspired by the bounty of Cayman's fishermen
Featuring locally-caught and responsibly-fished seafood
Three course prix fixe menu and six course tasting menu
Categories: Abacos, Caribbean, Cayman Island
Tags: Caribbean, Cayman, cayman island, Cayman Islands, Grand Cayman, ritz carlton, Seven Mile Beach Grand Cayman, travel