Christened in 1602 by British explorer Bartholomew Gosnold in honour of his daughter, Martha's Vineyard is no longer covered in wild grapes. Today, it's an island of beautiful beaches, woods, farmland, cranberry bogs, charming inns and tourists, distinguished from neighbouring Nantucket by its proximity to the mainland and its Cape Cod-like variety of landscapes and communities.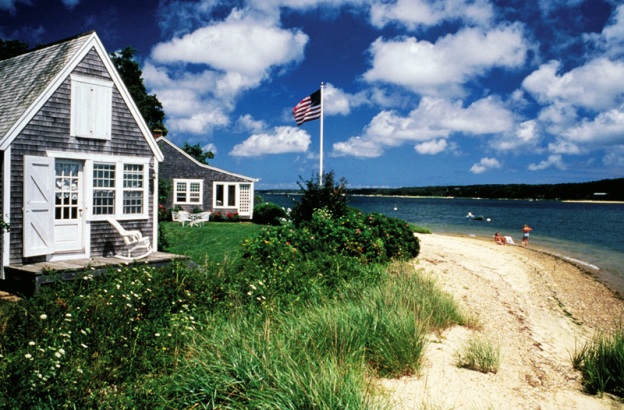 The offbeat, lively village of Oak Bluffs, with hundreds of colourful Victorian cottages and a beloved 1876 carousel said to be the oldest working merry-go-round in the country, offers the most after-dark activity for the 20-something set. Join in the carnival atmosphere, then stop in at Ben & Bill's to sample their ice cream flavours that range from 'lobster' to 'moose dropping'. The West Tisbury farmers market in and around the 1859 'Old Ag Hall' is alive with a wonderful selection of fresh produce. Also in West Tisbury is the Norman Rockwell-style Alley's General Store, the oldest retail business on the island and proud 'Dealers in Almost Everything'—peek inside just for the scenario.
Aquinnah (formerly known as, and often still called, Gay Head) is a perfect place to watch the sun set, perhaps while dining on a feast of lobster rolls or fried clams from Larsen's Fish Market or The Bite. One is a store, the other a traditional New England clam shack, and both are landmarks in the fishing village of Menemsha, not far from Aquinnah and its landmark lighthouse.
Old-fashioned and service-proud, the Charlotte Inn in Edgartown is the finest hostelry on the island. The 1864 main house is at the centre of a complex of five buildings with 23 guest rooms and public areas awash with elaborate Edwardian furnishings and original art. Abundant gardens give the whole place the rarefied atmosphere of a country estate that is more England than New England.
Nantucket's Wampanoag Indian name means 'faraway land', and Nantucket seems just that. It's only 30 miles off the coast of Cape Cod, but the 49-square-mile island floats in its own insular world of time and space. Some 10,000 year-round residents accommodate more than five times that many visitors each summer, yet the island retains an unspoiled atmosphere.
Stringent zoning laws help maintain the traditional New England appearance of the 'Little Gray Lady of the Sea'—so named because of the colour of its cedar-shingled houses muted by exposure to the sea air. Picture-postcard Nantucket is one of the country's finest protected historic districts, with more than 800 Georgian, Federal and Greek Revival houses and Quaker sea captains' homes, constructed between 1740 and 1840.
Nantucket was once the whaling capital of the world, and the small but interesting Whaling Museum preserves Nantucket's eminence in the 'blubber boiling' industry.