The sweet side of Los Angeles
Indulging in decadent treats in Los Angeles
In Los Angeles, there are many specialty shops for cakes, candies, and other sweet treats. Around town lines are often out the door for items such as gourmet ice cream sandwiches and unique twists on classic pastries. This might be surprising given the reputation the famed city has for fit and health-conscious locals. But let's be honest: We Angelenos know how to indulge.
Here are three top establishments for crave-worthy delights in West Los Angeles.
The Milk Shop
If you're driving along Beverly Boulevard, The Milk Shop is hard to miss: A towering white Art-Deco building adorned with a façade of four red milk bottles with the letters M, I, L, and K let you know you've arrived.
Here, freshly homemade ice creams and sorbets take center stage. Unique flavors such as blueberry crumble pie, Thai tea, and Nutella are quite popular. Order a scoop on a cone, in a cup or smushed between two freshly baked cookies and you will understand all the hype. Macaron sandwiches, shakes, smoothies, sundaes, and cakes can be found here as well.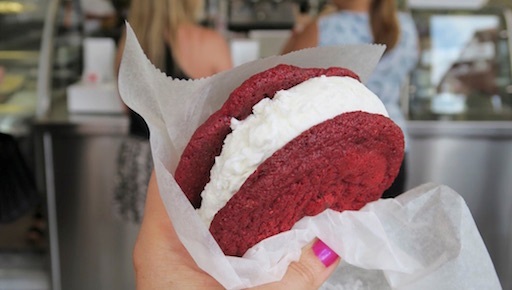 A personal favorite order of mine is a coconut ice cream sandwich made with two red velvet chocolate chip cookies. That chewy, freshly baked cookie just dissolves into the delicate, melting ice cream. When I want something a bit healthier, sorbet is tasty too. The blood orange sorbet (for which the oranges are imported from France) is my go-to order. The passionfruit also is quite tasty.
Fonuts
Behold: guilt-free donuts. As co-owner Waylynn Lucas told me, the mission from the beginning of Fonuts has been to create an experience that provides a happy escape. Lucas and her other co-owner, Nancy Truman, strive to do this by creating pastries shaped like donuts but are baked or steamed instead of fried. The ingredients are fresh and all natural. And most Fonuts are imperceptibly glutten-free and vegan.
Fonuts are best consumed a few at a time, with coffee or tea. Strawberry buttermilk and blueberry earl grey flavors are the top sellers, but my personal preference is chocolate hazelnut. Its gluten-free, cake-like dough is moist and delicate. Every time I take that first bite, the Fonuts' rich dark chocolate flavor fills my mouth. The topping of salty, crunchy hazelnut crumble provides a perfect contrast in texture and flavor.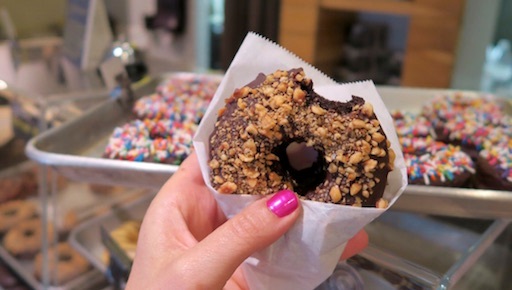 Republique
Every meal of the day is a celebration inside the beautiful and historic Republique. The pastry case (pictured up top) of goodies meets patrons at the door, making sweets-lovers weak in the knees.
Chef and co-owner Marge Manzke adheres to traditional French techniques and adds her unique flare to every dish. Classic croissants (revered by many as the best in the city), pain au chocolates, canelles, and brioche await. So do the Bombolonis, round brioche doughnut holes injected with decadent vanilla cream. The creme brulee Bombolonis are hands down the most popular item in the shop.
The list of delicious Republique goodness does not end there. Tarts and pastries are designed to feature seasonal fruit from the local farmers' market. Also served all day long is the chocolate cake with three moist layers separated by smooth, salted caramel. During breakfast and lunch hours, all pastries are available for purchase with gourmet coffee drinks, espressos, teas, and juices. It's a sweet tooth's heaven!